Barriers to buying
Salish and Kootenai envision homeownership for their middle class
Story by Josh Moyar. Photos by Kaden Harrison.
On April 17, a group of around 20 people gathered at the Salish and Kootenai Housing Authority in Pablo to discuss the future of medium-income housing for tribal members.
"I am overwhelmed in my job regularly," said Executive Director of Confederated Salish and Kootenai Tribal Housing Authority, Jody Cahoon Perez. "There's so much need."
Perez spoke to a room that included representatives from the CSKT Tribal Council, the Missoula Tenants Union, Common Good Missoula and community members all sitting together in a circle.
"I see the generational effects—poverty, lack of skills—of the way Western society came into our (Séliš-QÍispé and ḱupawiȼq̓nuk) world. It's in direct conflict with our value system and way of life," Perez said.
The meeting was called in response to the housing crisis on the Flathead reservation, home of the Confederated Salish & Kootenai Tribes — the Indigenous people that have inhabited the area for generations, called the Séliš-QÍispé in the Séliš language and the ḱupawiȼq̓nuk in Kasanka-Kootenai. The price of land has skyrocketed in the past few years. According to Perez, a three-bedroom house that could have cost $200,000 in 2015 is now going for as much as $400,000. As a result, mortgage down payments are out of reach for middle-class would-be homeowners, especially the small group of families that just crossed into the demographic from low-income. In Perez's eyes, the CSKT may need to get creative to find a solution for middle-class homeownership.

Perez, an enrolled member of the CSKT, went on to tell the story of how she came into contact with Jenny Misch, a Missoula resident who was co-leading the meeting. Before the two knew each other, Misch was battling with white-guilt and looking for a way to give back to the tribe whose traditional land she was now living on. After some conversations with Perez, the two decided that Misch willing her Missoula home to the tribe was the best way for her to give back.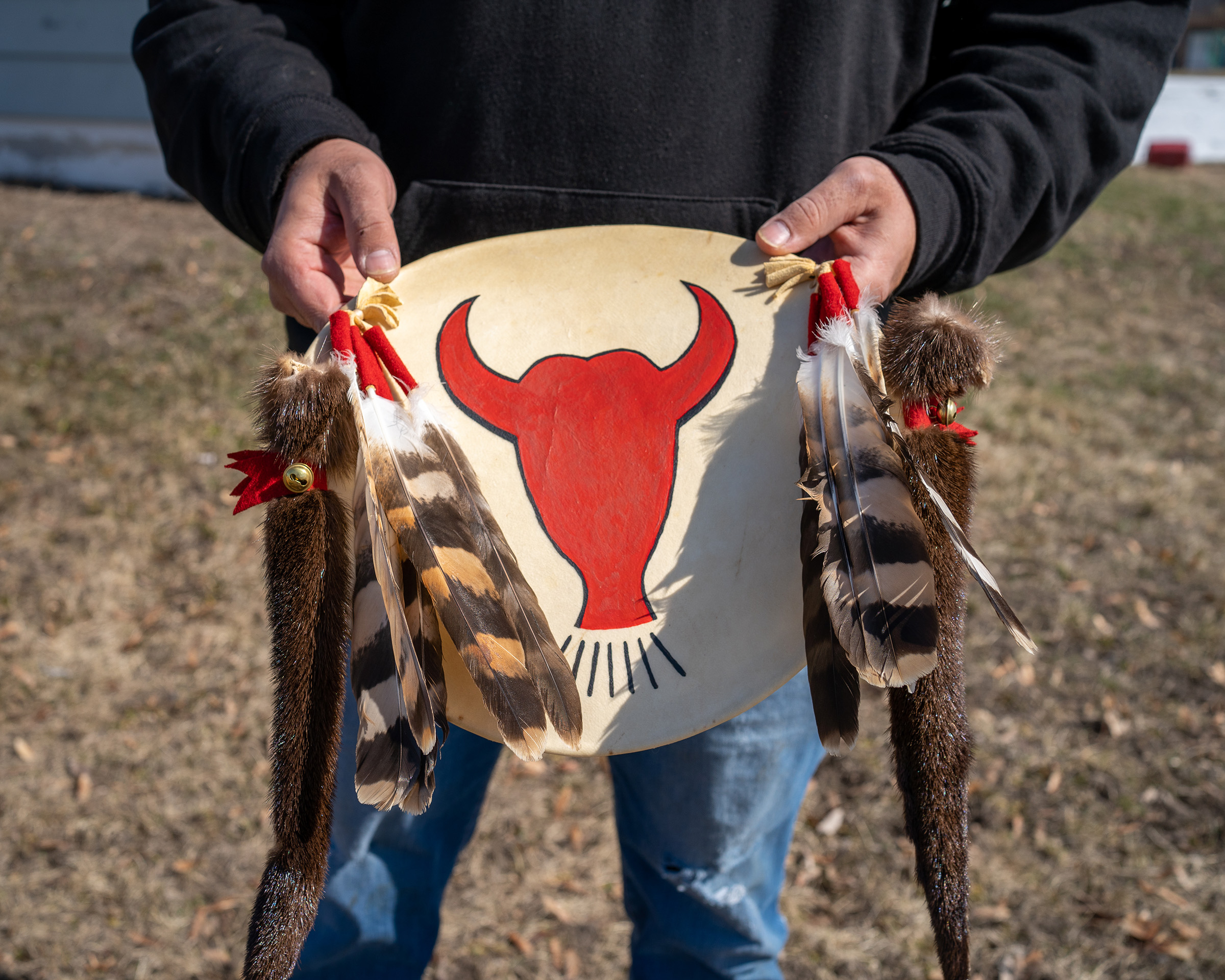 This visioning meeting was held to come up with a formal program for the housing authority to accept repatriation payments, such as real estate deeds and real rent — regular installments to the tribe that are typically $20 per month — for the purpose of easing the struggles of land ownership on the reservation.
As of now, Perez's plan is to establish a nonprofit to funnel donations through, which would then go towards a one-time mortgage assistance subsidy for medium-income families at the time of purchase. Perez feels this is the reservation's greatest need.

If this program gets off the ground, it wouldn't be the first of its kind. Real Rent Duwamish, a model for the program the SKHA is trying to launch, currently has 22,901 people regularly paying real rent. The money goes to the non-profit Duwamish Tribal Services and provides social, cultural and health resources to the Dxwdəwʔabš tribe of western Washington, which is still yet to be federally recognized by the U.S. government. The CSKT would, however, be the first tribe with a designated reservation to have such a program.
"I feel very grateful for your presence and positivity," Perez said before opening the discussion to the room. "I'm very big on positivity. It feeds me. How can we go wrong when we have this much positivity in a room? The sky's the limit. Whatever we can dream of we can do. Someone just has to start the spark. Hopefully, we're starting that spark."
A Market on Fire
Across the country, the housing market is short of homes. A study conducted last year by Harvard's Joint Center for Housing Studies found that in every state, low-rental units have been lost in the past decade, and home prices have risen nearly 20%. For members of the CSKT, the lack of land ownership can be traced back to 1910 when the reservation was opened to homesteading. This resulted in a large amount of white people that have been living generationally on the traditional ḱupawiȼq̓nuk and Séliš-QÍispé land, which once extended throughout much of western Montana. Today, 62% of the reservation is white — about 10,000 non-tribal members to 4,000 enrolled CSKT members.

Perez has been the executive director of the SKHA for four years now. Born and raised on the Flathead reservation, Perez herself spent some time living in an SKHA low-income rental unit in her early 20s. At the time, she was crashing with a friend, something she later learned went against SKHA policy and was technically illegal.

The SKHA is funded entirely by HUD 184, a section of the Department of Housing and Urban Development administered by the Office of Native American Programs. SKHA can provide services like down payment assistance, water and sewage, and a tax credit program to enrolled members of the CSKT.

Many of the affordable living services are exclusively for low-income members. The Native American Housing and Self-Determination Act only allows for 10% of its annual Indian Housing Block Grant to go to medium-income families and above, meaning that the SKHA is only able to rent units to low-income families. This is the primary reason Perez thinks a solidarity-based real rent program is necessary to help extend their services to the middle-income.
"To my knowledge, we have never used any of the (NAHASDA) funds to benefit non-low-income Indian families," Perez said. "We don't have enough funds for the low-income, so we can't justify a program for non-low-income."
Currently, the Salish and Kootenai Housing Authority has 402 families living in low-income housing units across the reservation. Out of the 402 families, seven are stuck in the middle. These seven families were living in low-income units when either a raise or a second household salary brought them up to medium-income. As per NAHASDA guidelines, they were no longer able to just pay the $275 ceiling rent and had to pay the fair market rent for the area, which is generally over $1,000 per month.

Perez said the housing market is what's kept those seven families in low-income housing. In her opinion, the biggest thing preventing people on the reservation from owning homes is steep mortgage rates, particularly down payments, that are the direct result of skyrocketing land prices.

"Our real estate market is on fire," Perez said. "We're outpriced on our own reservation by three or four times what we can afford."
Pete White, an enrolled member of the CSKT, is the tribe's credit manager. Every day, he receives an update from the Des Moines Mortgage Product Group, the district that manages mortgage interest rates on the reservation. On March 23, the rate was 6%, a nearly 50% increase from the 4.125% rate from the same date in 2022.
"That's certainly up, right?" White said. "So this is just a fixed rate. A bank typically adds additional points to that … that's where they're gonna make their money."
Indeed, banks will typically add an additional rate of 4.5% to 6%.

This extra interest wasn't as significant when the price of land was lower. Five to 10 years ago, a down payment on a mortgage could've been $40,000. Today, with both land prices and mortgage rates gone up, that number is more likely around $80,000. That's a much more significant hurdle for a young family to jump, with a steeper interest rate to boot.

White said the current high price of land is attributable to the COVID-19 pandemic. Particularly, accessibility to remote work made a strong internet connection the only thing people need to maintain a salary job. Out-of-staters are pouring into Montana, in many cases to buy a second or third house with a view of the pristine Flathead Lake.

As of now, there's no sign of slowing for rising house prices or mortgage rates. The only way out of this, White said, is to increase the availability of homes, but with the cost of building also at a high, this is easier said than done.
"I think we're gonna see that number go up until the feds see inflationary measures go down," White said. "Right now, there's nothing really available for lower-income or middle-income folks."
The Missing Middle
On the first warm day of April, the Buck household was undergoing their usual Sunday routine. Al Buck, an enrolled CSKT member and head of the house, laid out a spread of pancakes and fried Spam that people snatched as they walked by the kitchen.

Ten-year-old Alleah, Buck's youngest daughter, was jumping on the trampoline in the front yard with a rotating roster of cousins and family friends who also live at Woodcock Homesites, a neighborhood of SKHA low-income rentals. The temperature was above 60 degrees, so the girls turned on the sprinkler and brought it on the trampoline with them.

Buck, his fiancé Angela, an Alaskan Native of the Tsimshian Clan, and his two youngest children Kaden and Alleah, both CSKT members, have been living in Woodcock for the past five years. Two months ago Buck was promoted from an emergency employee of the forestry department to a greenhouse technician. With this raise, the combined income of the Buck household surpassed low-income, and their monthly rent payments bumped up to the area's fair market rent of $1,110.

"It doesn't seem very fair to me!" Buck said, laughing as he always seems to be. "We started doing better and they fined us for it."

With the help of the housing authority, the Bucks' situation will hopefully change in the next year or so. Currently, SKHA is constructing nine houses in Pablo, the Grizzly Bear Homesites. The SKHA plans to subsidize them at $100,000 for low-income families, and because they were approved back before Buck's promotion, they get to keep their spot on the list.
"Don't get me wrong, I'm thankful we have a roof here," Buck said. "But it just seems like (these rental payments) should be going to a mortgage."
North of Woodcock Homesites is another SKHA community, known as Pache. Jordan Stasso, an enrolled CSKT member, and his wife Alice, enrolled with the Yakama tribe of eastern Washington, have been living in a house there for six years with their three children, all CSKT members, paying the low-income ceiling rent of $275 until recently, when Alice started working as a tribal defender. Along with Jordan's job as a cultural specialist at Salish Kootenai College, the combined family income exceeded the mark.
"Our rent tripled," Stasso said. "It only costs more because we make more money."
Despite being one of the seven families in low-income housing paying fair market rent, the Stassos are a bit of an exception. Last year, Jordan went to the housing authority and filed a grievance form saying they can't afford the more than $1,000 monthly rent.

As a result, he argued his appeal in front of the SKHA Board of Commissioners, which can waive the low rent occupancy policy that requires fair market rent price. The board granted the Stassos a six-month period of paying only half the fair market price, which ends this July.

This month, the Stassos are set to close on a 10-acre plot near Polson. Although they'll have to build a house from the ground up, Jordan still considers it a lucky strike. On the cusp of land ownership, Jordan Stasso has big plans for the future.
"I want to establish a group of like-minded people who want to practice and live in the language and the culture (of the Ksanka-Kootenai people)," he said. "At some point, create a homeschool and our own traditional community where we are able to be self-sufficient. We can hang out, speak our language, teach our kids the language, all of our traditional skills and life ways and values. That doesn't happen in mainstream America."
But a new home in Polson will still be a few months away, and the Stassos still need to find contractors and cover the building costs. Until then, they'll continue living in low-income housing, likely paying full fair market rent payments starting in August.
"We're just stuck between the guidelines," Stasso said. "And that's not a fun place to be."
Envisioning the Future
After two hours of discussing the Flathead reservation's history, sharing stories about living on the land and thinking up the best ways to shape a program based on solidarity-funded projects, the visioning meeting was coming to a close.

With only one formative meeting so far, the project is still in its infancy. As of now, Perez is planning three separate follow-up meetings, one focused on real estate deeds, one on real rent and another on miscellaneous donations.
"I'm just a conduit trying to make sure the people who are wanting to provide resources to the tribe can," Perez said. "I can help facilitate them for now, but I hope the tribe takes the reins and helps it really get accomplished."
Martin Charlo, secretary of the CSKT Tribal Council, ended the meeting with a call to keep the conversation alive.
"I've seen these things happening and losing momentum, and then they're gone," Charlo said. "So if we're gonna do something, let's go all in and let's really be fully committed to this. If you look at it, we're in a really good position as a tribe. I hope that in 10 years, we can come back here and realize that this was a great starting point."
---
A SPECIAL PROJECT BY THE UNIVERSITY OF MONTANA SCHOOL OF JOURNALISM
ADDITIONAL FUNDING SUPPORT FROM THE GREATER MONTANA FOUNDATION
READ MORE: