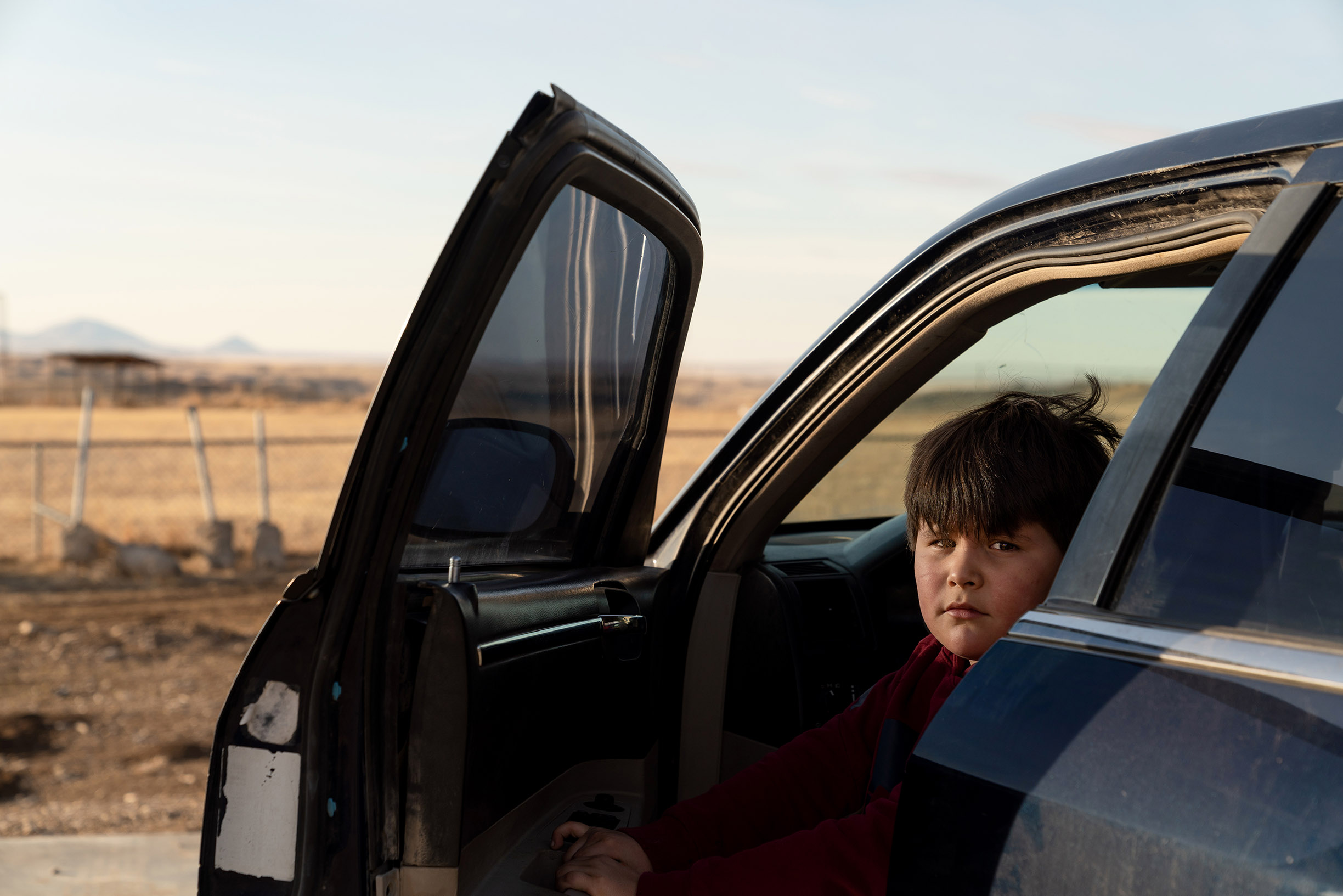 Inner Strength
Healing a mental health crisis through culture
Ryle Monteau sits in a car outside his home in Hays, Montana, on the Fort Belknap reservation. Since the 2019 youth suicide epidemic, young people on the reservation have found solace in their culture.
Written by Bowman Leigh, Photos by Sarah Mosquera
Along the edge of her right forearm, 20-year-old Miquela Perez has two black dragonfly tattoos.
About two inches long, the dragonflies look almost identical. A thin blue outline gives each one a slight glow and they look as if they're flying together in the same direction.
The images on Perez's arm are in memory of two friends who died by suicide. Dragonflies, for her, hold a special significance.
"They can carry angels on their backs, you know, because they have an extra set of wings," she said, adding that ever since she got the tattoos, she only sees dragonflies in twos.
Perez is one of many tribal members on the Fort Belknap Indian Reservation whose life has been impacted by suicide. In the summer of 2019, a youth suicide crisis emerged on the reservation, prompting the Fort Belknap Indian Community Council to declare a state of emergency. Eight months later, the COVID-19 pandemic hit.
Through the CARES Act, the council received over $14.4 million in pandemic relief — the smallest amount distributed to any of Montana's 12 federally recognized tribes. Facing the uncertainty of COVID-19, the council did not allocate any funds to youth mental health despite the recent suicide crisis. Steve Fox Jr., secretary treasurer, said this decision was based on an understanding that Indian Health Service — the federal agency responsible for providing healthcare to Native Americans — would be sending additional CARES Act funds to Fort Belknap's Tribal Health Department. IHS set aside $450 million for distribution to tribal health, urban Indian health and local IHS programs according to the Montana Budget & Policy Center. But Tribal Health Director Karen Yazzie said those funds never arrived.
"IHS didn't share any CARES Act money with us," Yazzie said. "No money that was allocated for behavioral health."
Tribal Health did receive over $97,000 in CARES Act funds from the Substance Abuse and Mental Health Services Administration to put toward youth suicide and trauma prevention, but that funding was just enough for computer cameras, staff laptops and increased administrative support.
CARES Act funding, in effect, did little to support youth mental health programs on the Fort Belknap reservation. Surprisingly, suicide completions trended downward once the pandemic hit.
Some tribal members link the decline in youth suicides to families being at home together during quarantine.
"My best guess is that people were actually home with their children," said Connie Filesteel, former special projects researcher for the council, who also organized community meetings following the 2019 state of emergency.
But for others, this downward trend has not been felt at all.
"It's a crisis," said Velvet Werk, nurse and emergency room supervisor for the IHS clinic in Hays, near the southern end of the reservation.
"We need to get more youth-based programs here, something that's going to engage them," Werk said. Without that support, she added, stress will continue to build up and become overwhelming, especially among young people.
Youth suicide numbers have decreased, but not disappeared. While CARES Act funds had minimal impact on youth mental health programs, community members on the Fort Belknap reservation are using tribal culture to build mental resilience. As the wounds of generational trauma continue to heal, tribal members believe that tapping into traditional practices connects young people with their community and helps them access an inner strength that can carry them through moments of crisis.
For those left behind in the wake of a youth suicide epidemic, culture has become a form of prevention.
***
In March 2021, mental health providers from Tribal Health and IHS led two talking circles at Hays Lodgepole High School to help students process the news of a recent youth suicide. Principal Reyna Perez monitored students all day before heading home.
After attending the second talking circle, Perez felt drained. She curled up under a blanket in the living room and turned on the TV. Nearby, her 7 year-old son practiced his somersaults.
Perez's oldest daughter, Miquela Perez, sat on the couch across from her, at work on her iPad. Using a white Apple Pencil, Miquela traced digital images of old photographs to create illustrations of tribal members wearing traditional clothing. These drawings would soon fill the pages of a new tribal language curriculum, put together by Miquela's employer, the Language Nest.
"I'm so proud of her," Perez said, smiling, as she looked toward her daughter.
Miquela Perez grabbed her shoes and took her younger brother for a late afternoon walk. Once outside, they untethered their dog, Harley, and made their way to a path that ran along the highway.
"For a while there, it was hard to stay positive," she said. "I was severely depressed for a long time."
By early July 2019, two of Perez's close friends — Thane Helgeson, 19, and Erin Healy, 18, — died by suicide just over two weeks apart. The following February, she lost another friend to suicide — Jeffry "Weffy" Stiffarm, 19. Perez said that she began drinking in June, following Helgeson's death, and didn't stop for seven months.
"It was just really not a good life. We all went into very deep depressions," she said.
During that period, Perez found herself drifting away from her spirituality and traditional practices that had always been a part of her life.
"After they died, I became pretty hard," Perez said. "I lost touch with God and was giving up on stuff like that."
Then slowly, she began to revisit different cultural activities and felt her mindset start to shift.
"Because I got back into going to sweat, and speaking, and praying — it made me feel good. It made me feel better," she said. "You have to choose a better life for yourself. You have to have enough will to get up 'cause nobody's going to do that for you. Nobody's going to pull you out of bed."
Now, she feels anchored by the sense of purpose she gains from translating and teaching Nakoda language classes.
"My language is what saved me, honestly," she said.
Perez readily admits how lucky she is to have opportunities that so many young people on the reservation do not. She has a job; she has a community. But despite all the challenges young people face, Perez still believes that the reservation matters.
"There's a lot of people who talk about how ugly [our rez] is, or how sad it is, or how pitiful we are, but this is our only home. This is where we're from and running away from it isn't going to fix anything," she said.
Back at the house, Perez thought about her own future before heading inside.
"I want to travel so I can see the world 'cause I know that there's so much more to the world than here, but I don't think I ever want to leave my rez. I think we're worth it," Perez said.
***
Renita Longknife sat on a bench just inside the door of her sweat lodge near Fort Belknap Agency. A member of the Nakoda tribe, Longknife works as a traditional healer for IHS and provides mental health support throughout the reservation, including helping to lead talking circles at Hays Lodgepole High School.
"I feel that the kids are reaching out. They want to know who they are," Longknife said.
Standing, she lit a small bundle of sage before sitting back down in the sunlight and lighting a cigarette. She wore a cap that read "Native Pride" and two long, gray braids draped over her shoulders.
Longknife is one of many tribal members who attended Indian boarding schools as children. The forced assimilation, abuse and cultural erasure of the boarding school era has left a powerful wake of generational trauma. As adults, many have re-embraced practices that were once forbidden. But more than that, elders want Native youth to feel the healing power of these traditions.
Following the 2019 suicide crisis, Longknife recalled community meetings where tribal members tried to figure out what was harming their young people.
"We in the community said, 'Well, they don't have spirituality. They don't have something they can hold on to,'" Longknife said.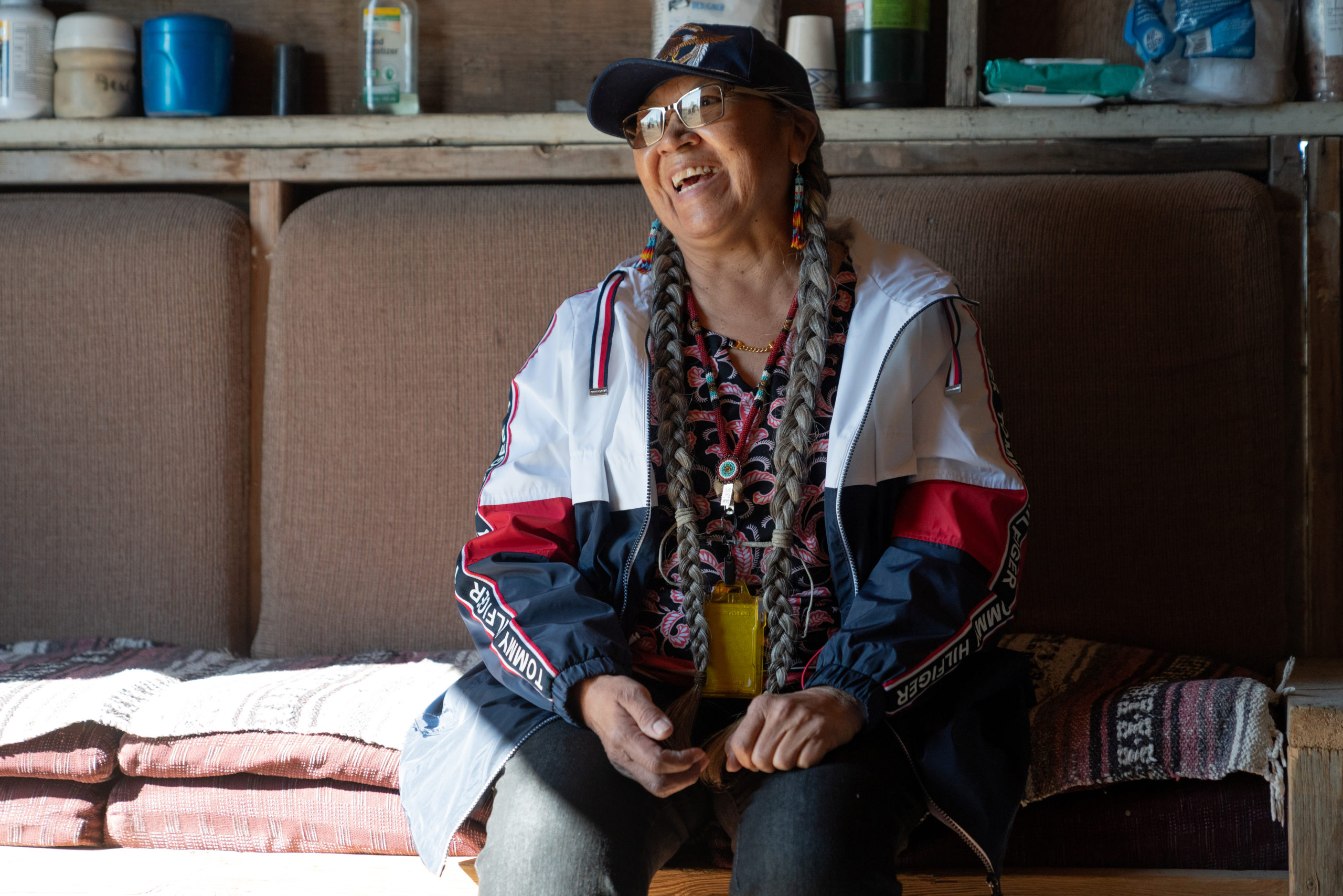 She said this was due to the hardship of assimilating into white culture.
"I think it's very important for us as elders — as parents and grandparents — to let them know that it's okay now, it's okay to be Indian," she said. "We don't have to be ashamed. We don't have to be afraid."
She recognized that many members of her parents' generation were only trying to protect their children.
"They didn't want us to be hurt. We were told, 'You have to learn what you can about white society. It's better if you go over there,'" she said.
But for Longknife, real healing and resilience stem from identity.
"Everyone needs a sense of belonging and I think that's what the kids are searching for. If they can grasp onto that, then they're going to be okay," she said.
Connecting historical trauma to current mental health struggles is not unique to Fort Belknap — it is a long-recognized challenge among tribal communities. Shelby Rowe, a member of the Chickasaw Nation, has been studying this trend for years in her role as program manager for the Suicide Prevention Resource Center at the University of Oklahoma's Health Science Center.
"When you, deliberately for hundreds of years, destroy culture, family and economic opportunities, you can't blame it on the tribe for having unemployment and a broken family," Rowe said. "When, for three generations, you stole their kids, beat them, raped them, and told them how worthless they were, what do you expect?"
Considering the profound trauma experienced, Rowe noted that tribal communities are uniquely resilient.
"[These] programs worked well at destroying [tribal] communities and cultures, but it's not their culture that broke them," she said.
***
The council began to reevaluate behavioral health services provided on the reservation in 2016. Dominic Messerly, a member of the Aaniiih tribe, was elected to the council in 2015 and tried to understand the best way to help tribal members' mental health.
Messerly said Fort Belknap relies heavily on federal and state funding, particularly with the implementation of mental health programs. Because this funding is inconsistent, the tribes have struggled to provide continuous, coordinated care. Although the tribes have made progress in recent years — developing pilot programs aimed at integrating traditional practices into behavioral health treatment methods — funding remains an ongoing issue.
Tribal Health faces numerous roadblocks, including lack of access to IHS data and a multi-year process for mental health providers to receive credentials, Messerly said.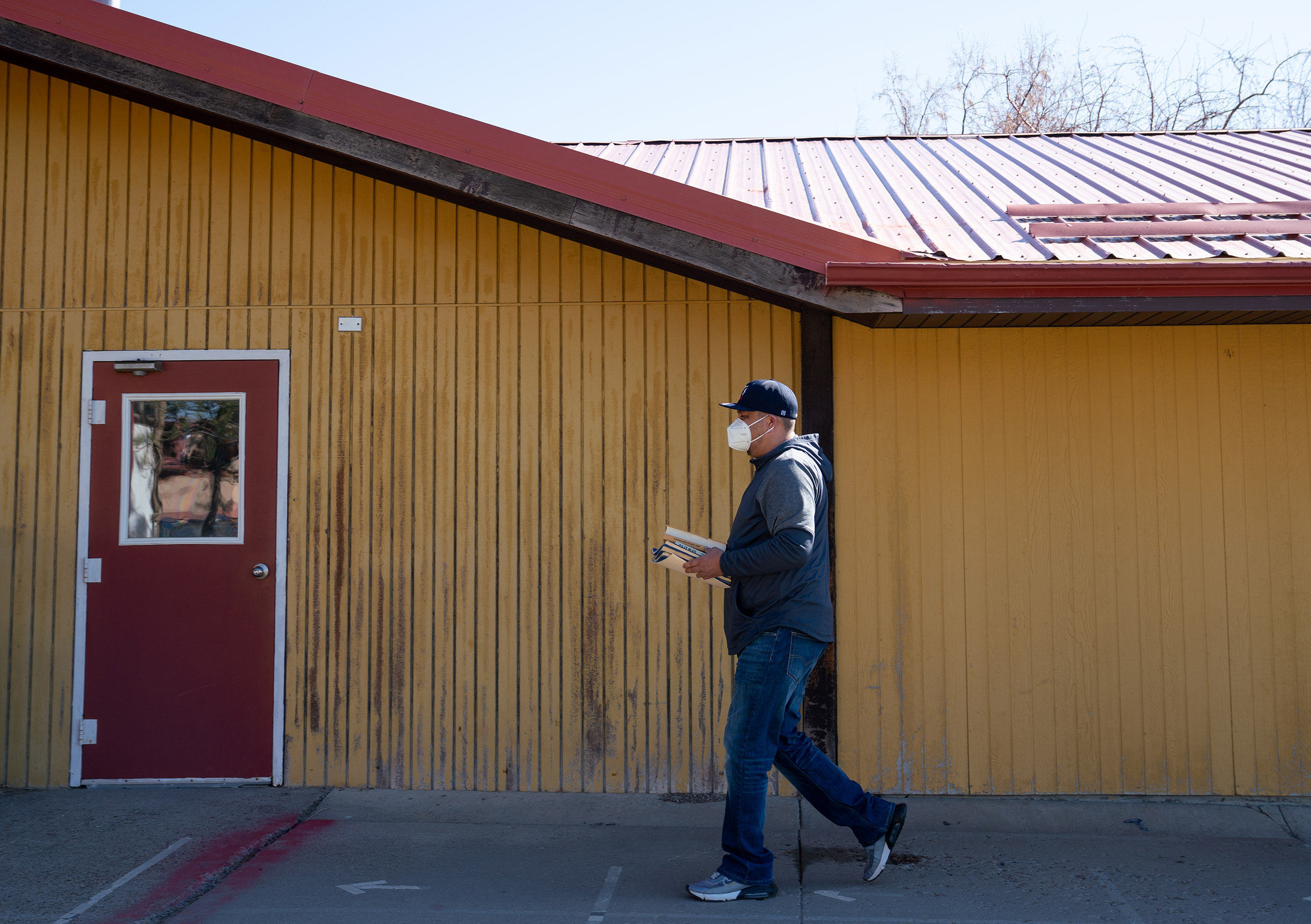 "There's a lot of bureaucracy," he said. "It's pretty frustrating."
In the past several years, two Tribal Health programs have worked to incorporate traditional culture into youth suicide prevention: Empowering Inner Strength and Native Connections.
Messerly said the vision behind Empowering Inner Strength was to remove the word "suicide" and recenter mental healthcare around a more positive idea of selfhood.
"We wanted to take the stigma away. The vision behind it was, through our own cultural lessons and philosophies, we would be able to help our community members struggling with mental health," Messerly said. "Tapping into their inner power would be their strength to get them through."
Though Empowering Inner Strength lost its grant funding in 2020, the tribe had applied for — and was awarded — a five-year SAMHSA grant in 2019, enabling Tribal Health to continue youth suicide prevention through a new program called Native Connections.
Due to the pandemic, Native Connections is all online, but has brought the community together through Zoom classes focused on traditional practices like beading or virtual talking circles. According to June Ellestad, project director for Tribal Health, while these programs will not solve mental health struggles immediately, she is hopeful that they will make a difference in the long term.
"The data tells me that culture is prevention," Ellestad said. "And what I see is that connection matters."
The council is in the process of negotiating an agreement with IHS that would enable Tribal Health to take complete ownership of all behavioral health services.
"A lot of our people aren't willing to go get help [at IHS] because they can't relate to the providers," Messerly said. "They can't relate to the services that are being provided."
He hopes that this agreement will usher in a new era where community members can access better, more holistic mental health care grounded in traditional practices.
Other programs have evolved from a grassroots level.
Diana Bigby, who works for Tribal Health as a tobacco prevention officer, started a girls empowerment program in 2018 called the Girls Society in response to youth suicide. Together with a friend, Bigby developed the program to create a safe space where girls could learn about their Indigenous roots.
In addition to teaching them how to make ribbon skirts or prepare for powwows, Bigby also shares coping skills like deep breathing exercises to help the girls move through overwhelming emotions.
"There's no one there to teach you coping mechanisms. That's where the alcoholism comes in, that's where the meth comes in," Bigby said. "If we are taught to cope in a different way, I don't think a lot of those things would be happening."
Bigby, a mother of five, reminds her kids that they are resilient.
"Our people have been through so much and we're still here for a reason," Bigby said.
***
On a weekday afternoon at the Language Nest office, staff gathered for lunch before preparing materials for upcoming tribal language classes.
Kenneth "Tuffy" Helgeson, Perez's boss and mentor, and George Horse Capture Jr., who runs Aaniiih Nakoda Tours, were the only men in the room — the rest of the staff are women.
Around the room, staff members commented on the impact they felt their work had on the community. Stevie Werk, project coordinator, connected language education to undoing the harm of the boarding school era.
"Our grandparents went to boarding school and [our language] was beat out of them. I think the reason why they didn't teach it to us was because they loved us so much. They didn't want their children and grandchildren to get beat," she said. "For the language to come back, it's really an amazing thing."
Looking around the room, Horse Capture Jr. added that seeing these women take on a leadership role inspired him. "I watch these young ladies and they walk straight up. They ain't got their head down, they ain't beaten, they ain't conquered."
He paused. "They ain't gave up. To me, that brings me a lot of pride because I've seen a lot of conquered Indians."
Horse Capture Jr. grew up in Oakland, but his family returned to the reservation each summer to visit his great-grandmother, who he called "a blind, old Indian lady."
During one visit, Horse Capture Jr. recalled watching as his father — who wore a "flat top hair cut" common among men who served in the Navy — approached his grandma, eager to have her touch the two small braids he had grown.
"He turned into what I would say a puppy, and his tail was wagging as his grandma was feeling his braids," Horse Capture Jr. said, moving his arm back and forth like a dog's tail.
But then, Horse Capture Jr. recalled, he watched as his great-grandmother paused, taking a long time to answer.
He saw her straighten up and say to his father, "My boy, you shouldn't do this. This is hard." His arm came to a stop.
"I watched my dad's heart break," he said. And as he grew up, Horse Capture Jr. added that he often felt confused, even angry, when he remembered what happened.
"What did my old grandma go through," he wondered aloud.
With tears in his eyes, Horse Capture Jr. looked out at the young teachers sitting across from him.
"No matter what words I would fumble around — to grasp at how important and what this [work] means — they'd always fall short," he said. "The only way you'd be able to understand is if I was able to rip open my chest, and let you look in there."
***
As Perez floated in the warm waters of the Fresno Reservoir an hour outside of the reservation, she was grateful to be feeling more like herself.
Since the loss of her friends, Perez's mental health had improved. She no longer suffered from the severe depression she felt in the months immediately following her friends' passing.
She heard a low hum and felt something land lightly on her skin. Lifting her head, she saw a dragonfly perched on top of her hand.
Perez realized that it was exactly one year to the day from the last time she saw one of her lost friends alive.
She wondered if the dragonfly on her hand could have been him.