Little Shell
Little Shell – Running on Empty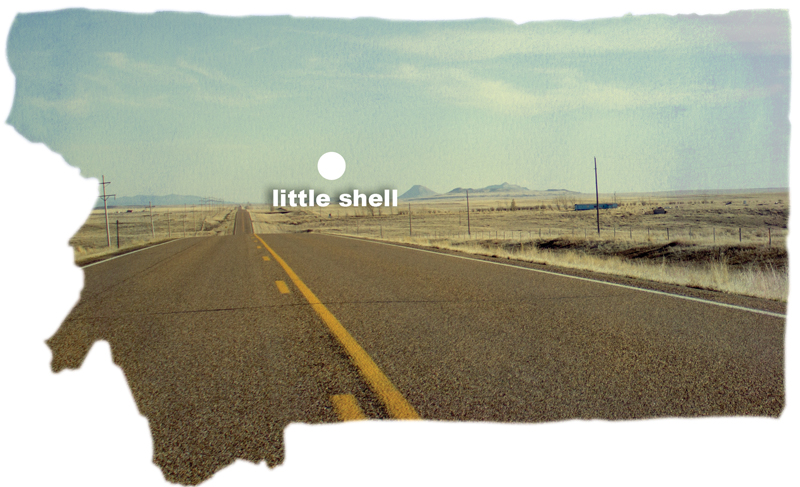 Story by ALLISON MILLS and ALLISON BYE
Photographs by CANDACE ROJO
Gerald Gray speeds up to 85 mph, passing the slower drivers. They might catch a flash of his "Shut Up & Fish" sticker on the cab's back window, but then he's flown past.
Gray, the elected leader of Montana's landless tribe — the Little Shell Tribe of Chippewa Indians — is rushing to one of his two jobs, the job that he pays for. He pays in miles, hours and cash. Though serious, he has an easy smile and a patch of silver hair that catches the light. Gray jokes he can drive the 220 miles from Billings to Great Falls in his sleep. He does, after all, drive the route at least once a month for tribal council work.
He also works full time as the vice president of G+G Advertising in Billings, it's the job that pays him.
All of Gray's council work is unpaid. Rather he donates more than 100 hours per month to his duties. His travel expenses are uncovered, which, based on Montana state rates for personal vehicle use, amounts to at least $736 per month.
"I'm definitely not in it for myself, because it takes up so much of my time and money to do this," Gray said, joking that he and his wife call the intense commitment "The Little Shell Days of Our Lives."
In Billings, Gray fills up the tank of his Ford F-250, a total of about $85. On the way up, he pulls over at Eddie's Corner near Lewistown to buy a coffee. He says he always stops here on his way to Great Falls and at Ray's in Harlowton on his way back.
The tribe relies on volunteers such as Gray because it has no money. The Little Shell is not recognized as a tribe by the federal government, so it is ineligible for federal aid. The tribe has no reservation and no treaty rights.
However, the state of Montana does recognize the Little Shell, and this designation makes the tribe eligible for state grants to pay for only three staff positions. Everything else, including the tribe's highest elected position, is volunteer: Donations of time and heart. Those volunteers are torn between a duty to their tribe and the necessity of paid work to live.
"Without our volunteers, we wouldn't have an office, we wouldn't have enrollment, we wouldn't have anything," Gray said.
The tribe runs off of at least 1,100 volunteer hours per month. About 850 of those are donated by the tribal council. Based on estimates of other tribal councils' wages, the Little Shell council members value their collective costs at about $30,000 monthly.
That would more than drain the Little Shell tribal budget, which is estimated to be between $160,000 and $190,000 annually. This is about one-tenth of a percent of the 2011 tribal budget for the Confederated Salish and Kootenai Tribes, Montana's wealthiest tribe. The Little Shell budget also fluctuates dramatically depending on income from state grants.
There are nearly 5,000 members of the Little Shell spread across the state and country. The tribe hosts a handful of events throughout the year, but its biggest bills are rent, utilities and payroll for certain employees. A council of seven volunteers oversees the activity and administers the money.
The work is invaluable, especially since the tribe's only income is through quarterly fundraisers, usually totaling around a few hundred dollars. Book and license plate sales, as well as revenue from a $5 fee for enrollment applications, also bring in a small amount of money. The budget's bulk depends on three state grants, estimated to total just under $160,000 per year. These grants can vary month-to-month, are highly restrictive in what they cover and face threats of dubious future funding.
The tribe does have a financial stake in a 2006 lawsuit in which the federal government was sued for mismanaged funds. As a result of that suit, there is a $4 million account waiting for the Little Shell in an Albuquerque bank. However, the tribe can't touch the principle until the federal government officially designates it as a tribe.
Gray said the success of the Little Shell is like a puzzle and getting federal recognition is just one piece.
"It's an important piece, because it's a piece that we deserve," Gray said. "It's rightfully ours; it's already been proven."
The Little Shell filed for federal recognition in the late 1970s. It took three decades before the Department of the Interior denied the request. The federal government claimed the tribe did not meet all the legal requirements and lacked political influence over its scattered members. Taking the denial in stride, and having gained recognition from the state government in 2000, the tribe moved forward and is collaborating with Montana's senators Jon Tester and Max Baucus as well as Rep. Steve Daines to push through a federal bill that would grant them recognition.
The cultural center looks small, especially next to an egg processing plant and several construction warehouses. To the northeast looms Hill 57, the site on the outskirts of town where the Little Shell community used to live. The dirt road continues back to a set of trailers, hemmed in by an old wooden fence.
Gusty winds, the kind that slam open car doors, whip against Gray's truck as he pulls in. Within minutes, fellow council member Clarence Sivertsen has his own truck backed up to a tall, black metal frame at the edge of the lot. Gray pulls a large cardboard box from his truck and opens it, revealing a large, white sign.
Fighting winds and chilly air, Gray and Sivertsen climb on top of the truck's cab, wrestling with the sign. They push it into place, locking it into the frame. The sign displays a medicine wheel with the words "Little Shell Chippewa Tribe Cultural Center" beneath.
Sivertsen's sister Colleen Hill serves as the Little Shell treasurer on top of her full-time job as an accountant at the Holiday Village Mall and managing her own accounting business. She has long, dark hair with straight bangs and deep blue eyes. Since January 2012, Hill has put together the only bookkeeping system the tribe has ever had.
"You put a project in front of me, it's gonna get done," Hill said. She volunteered to put together the tribe's first budget and backlogged seven or eight years of data to do so. "It was just sitting in these two storage sheds, just boxes and boxes."
Hill spends most of her evenings downstairs in her home office and estimates that she dedicates about 30 hours a week volunteering for the Little Shell tribe, but it was more when she was going through the old tribal data.
"Those types of things make it worth it when you know it's going to help someone," Hill said. "You just do what you gotta do."
Hill says she volunteers most weekends and her weekday nights have a routine. When she gets home from work at about 5:30 p.m., she jumps straight to crunching numbers, stops for a bite to eat sometime around 7 p.m., then checks invoices and tallies expenses late into the night.
Rent totals about $1,750 each month between the office and cultural center.
Payroll would be the next largest expense: A state job-training program pays for one part-time office receptionist, and the office's two full-time employees are funded through state grants. Kati Antonich, the tobacco-prevention specialist, and Darrel Rummel, the wellness program coordinator, are paid with two of the three grants the tribe receives. The third grant is the Indian Country Economic Development grant.
Rummel receives her pay through the Montana-Wyoming Tribal Leaders Council, which also gives enough money to cover program expenses and a small portion of rent and utilities.
Antonich receives her pay through the Montana Tobacco Use Prevention Program. The money also helps pay for part of the office rent and utilities, but paying for program expenses is more complicated because it operates on a reimbursement basis.
"We have to basically front the state of Montana money and then get reimbursed," Chairman Gray said.
Depending on what the tribe can afford, expenses for the program range from $700 to $9,000 a month. It is a month-by-month balancing act.
Gray says the tribe is "under such a microscope with the state" because of the mishandling of Montana Tobacco Use Prevention Program funds by a past administration.
Office receptionist Denise Ramsted, who was employed through a Montana United Indian Association job-training program, was the only other office member paid for her position besides Rummel and Antonich. However, the job was temporary and expired in early April. While she had thought about volunteering before, she needed the money an actual job would provide to support herself.
Ramsted's mother, Patricia Maki, has volunteered with the tribe since 1969 and helps in the enrollment office.
"[Volunteering's] just something you can't get away from," she said. "Once you start, there's always something more to learn."
Maki, whose blue eyes are framed by glasses, works between four and six hours a day checking enrollment applications and files, printing ID cards for tribal members and answering questions over the phone. She also works with the state welfare department when they are dealing with Little Shell children and does paperwork pertaining to the Indian Child Welfare Act.
Maki estimates her work is worth at least $16 per hour, and based on her hours, her annual salary would amount to about $20,000.
"The reason for me being here is hopefully being a role model for my own children and grandchildren and spark an interest in them in getting involved," she said.
Maki's friend Roger Salois also volunteers in the enrollment office, about four hours a day. Wearing faded blue jeans and suspenders, he keeps a can of diet Ocean Spray juice on hand while researching family names and blood degrees. A "cheat sheet" of blood-degree fractions encased in a plastic cover lies nearby; a smaller one is taped to a laptop keyboard.
Salois, also retired, began working with the tribe in 1995 and says he has served in almost every council position.
"[Volunteering] just kept escalating for me," he said. "There's just more and more and more to do."
Tribal council secretary Louella Fredricksen, a small woman with curly hair, flits between her desk and the enrollment office. Fredricksen started in 1996, working with Maki to set up the enrollment database. She's now retired but still works several hours a day for the Little Shell while caring for her husband.
"I've worked my whole life, so it's nothing new," Fredricksen said. "When I retired, I thought, 'Oh no, what am I going to do, I'm going to get bored.' But I haven't had time to get bored yet."
For many of the Little Shell, the time they put into volunteering is essentially "priceless." For election committee volunteers Francis Flesch and Joe Martinez, it's hard to guess the number of hours a week they put in because they don't track it.
"If it's going to move us forward from where we're at today, I don't [mind volunteering] at all," Martinez said. "That's my goal, to move this tribe forward, in any way I can, whatever I have to do."
Both men are retired. Martinez has a full belly laugh and eyebrows like black, inverted checkmarks. His leg was swollen because he recently had knee replacement surgery. Flesch, who has to carry around an oxygen concentrator because of a heart condition, has bright blue eyes and sings "Hey Joe" to Martinez every time he calls.
The two men worked together to set up the last election, organizing polling places and running background checks on candidates, on top of other duties. Candidate application fees helped pay for the elections. Flesch also helps manage the tribe's Facebook page and records council meetings and posts videos of them online.
For Flesch, who grew up in Judith Gap, working for the tribe is not just something he wants to do personally; it's also to fulfill a promise he made to his mother.
"There were a lot of people out there, in Judith Gap, that run us down," he said. "And Mom, she just kind of plugged along and stood up for us. So this is all, what I'm doing, I'm doing for her. That's the easiest way I can say it."
While the tribe has received a great deal of support from various members, many agree what they have now will not be enough in the future. Because the Little Shell tribe is unable to pay volunteers for their contributions, most, such as Flesch and Martinez, are elders. Members often say the end goal for the tribe is federal recognition, but many feel they will not be able to achieve this if younger people do not start participating. Through the tobacco prevention and wellness programs, elders hope youth interest will improve.
"This tribe will live and die with young people or without them," Martinez said. "They're going to live if they can come in, and they'll die if they don't."
Chairman Gray thinks the generation gap is simply a logistical problem. To him, economic self-sufficiency is the kindling for a brighter burning future. He sees the Little Shell operating like the Lumbee tribe in North Carolina, which has an established government, social services and tribal businesses but is not federally recognized.
"They don't need to be because they've got all kinds of business ventures going on," Gray said. "That's how I envision the Little Shell: With or without the federal government, we'll get there."
For the Little Shell, success is a mix of tradition, reality and hope for the future: keeping tradition alive in their community, accepting the reality of challenges they face and hoping the federal government will recognize their efforts. Gray believes all members have the internal drive required to move the tribe forward.
"To me, the fire burns so passionate because when you're talking to our senators or representatives, they know it and I know it, and it's like this isn't going to die out until something is done about it. So we just keep fighting it."
Editor's note: Denise Ramsted, who was mentioned in this story as one of the paid employees of the Little Shell Chippewa tribe, died in her home on May 1.