Prize and poison
By Heidi Groover
Photos & Multimedia by Andy Ambelang
These plains are empty, a blank expanse for miles. A light blue sky dotted with clouds meets the flat earth. The ground is white except for scabs of brown dirt, a lone bare tree and triangular black shapes bobbing slowly up and down in the distance. The black machines look simple, stark—alone in the middle of the vastness of the Fort Peck Reservation.
But below them, 7,000 feet down, is the prize and the poison of the Assiniboine and Sioux people.
The town of Poplar sits along Highway 2, the gateway to oil fields to the east and mountains to the west. Many buildings in this town of 2,900 people are old and empty, boarded up and forgotten. On a recent spring day, a gust of wind blows a half-crushed Bud Light can past a stray dog and into the street. Everything else is quiet. This silent town is the heart of this reservation, home to tribes with the opportunity to grow quickly from a new oil boom, but with painful enough memories to hesitate.
Drilling rigs like this one operated by DHS Drilling Co. are capable of drilling up to 25,000 feet into the earth. Most wells drilled in the Poplar oil field are around 10,000 feet deep.
For decades the Environmental Protection Agency has been monitoring an underground oil plume seeping from the East Poplar oil fields toward Poplar's public water supply. In late 2010, this briny plume, contaminated with toxic compounds, some of which are known to cause cancer, reached Poplar's public water source.
The EPA issued an emergency order in December that outlined the history of the contamination and said the concentration of the toxic elements was not yet at a level in the city water supply that is harmful to human health, but that the contamination "is likely to increase and may do so abruptly." The plume has already tainted private wells, rendering the water unsafe, the EPA report states.
The oil companies, Murphy Exploration & Production, Pioneer Natural Resources, and Samson Hydrocarbons Co., have challenged the order in court, according to an EPA spokesman. It is the latest of several court challenges to EPA orders addressing the contamination. The latest order would require the oil companies to pay for continued monitoring of wells on the reservation and to provide a safe and reliable supply of drinking water if the current city water source reaches harmful levels.
"Our first and last and continuous concern is public health, so whatever solution is finally reached, we want to assure that public health is protected," Nathan Wiser, an environmental scientist at the EPA's Region Eight office in Denver, said in early May.
Wiser would not elaborate on potential outcomes of the case because EPA and the oil companies are in confidential negotiations, he said.
The plume of salty brine, a byproduct of oil drilling, is the result of more than 50 years of oil drilling practices, which have only been subject to strict rules in recent years, Wiser said.
The brine is primarily salt water, but can also include compounds like benzene, a known carcinogen, according to the EPA order.
"It is something we have concern about," Wiser said. "The facts we've seen have certainly shown that at certain monitoring well locations certain water wells have gone from pretty good to pretty bad in what in my mind is a pretty abrupt fashion, in a matter of a year or two."
Even without the presence of benzene or other harmful chemicals, the Poplar water is so salty it is not drinkable, Wiser said.
"Any time you're pulling stuff out of the ground it's always going to be disruptive."
Deb Madison
Oil drilling is a business that promises jobs and economic development to this vast land, where unemployment levels regularly reach more than 50 percent of the workforce.
Since the 1950s oil production has taken place on the Fort Peck Reservation, which sits above the Bakken Formation, a 25,000 square-mile sea of oil. But only in recent years have tribal members begun to realize the full environmental impacts of bringing the oil to the surface.
Now, as drilling is poised to make a comeback, environmental regulators, tribal leaders and former oil field employees aim to minimize harm without scaring away one of the most promising industries in the area.
As Wilfred Lambert, 35, maneuvers his navy blue four-door Ford across muddy, rutted roads, ahead is a horizon covered with oil rigs. The rough road jerks the truck back and forth and gravel pops against the undercarriage. Lambert and Les White Hawk, 39, look out on the East Poplar oil fields extending into the distance.
Both men are stocky and broad-shouldered. They wear a uniform of jeans and T-shirts. As they turn Lambert's truck into the driveway of an oil drilling site, White Hawk jokes with Lambert, asking, "What are you going to make for dinner tonight, Bud Light?" The two let out deep laughter as Lambert turns the wheel and his truck ventures onto a muddy road that crosses the oil fields. White Hawk and Lambert grew up together here in northeastern Montana. They were childhood neighbors, playing on the land that now drives their tribe's economy and development.
Lambert works as an inspector for the tribe's Office of Environmental Protection and White Hawk owns wells on tribal land.
"We have a certain amount of responsibility to Mother Earth, and taking care of her," says Tribal Councilman Tommy Christian.
White Hawk points out his tanks—two holding oil and one holding the salty byproduct—with a pride not unlike showing off homes with landscaped yards. They used to be poorly maintained, he says, monitored by a company whose people weren't on the ground as much as he is.
"Now they look like they belong to somebody, like somebody's taking care of them," he says.
Lambert and White Hawk both say a new oil boom could "wake up" the reservation, something it badly needs.
Bureau of Indian Affairs Deputy Superintendent Grant Stafne says at least five oil companies from across the United States, whose names he would not release, are applying for permits and land leases, eager to look for new oil sites on the reservation and start extracting by summer.
The BIA is responsible for navigating complicated land issues, like whether the land is allotted to a tribal member or owned by the tribe as a whole. If a tribal member sold it to a non-tribal buyer the BIA determines whether the seller kept the mineral rights, a common occurrence, Stafne says.
Three levels of government — federal, state and tribal — mean getting work done on the reservation is not easy. Some companies can be put off by the extra layer of bureaucracy, Stafne says, but that can be the cost of doing business on eastern Montana's richest oil fields.
When hiring oil field workers, companies must comply with Tribal Employment Rights Office (TERO) regulations, a federal mandate that requires them to employ at least 80 percent Indians for all on-reservation projects.
Douglas Murdock, TERO director on the Fort Peck Reservation, says these rules guarantee there will be more jobs for unemployed tribal members as development increases, especially oil exploration and drilling. Murdock says he welcomes another oil boom and is developing an oil training program so that when it arrives he has a cache of potential employees.
"The opportunities are here. We've just got to grab them," Murdock says. "It's going to help everybody in this part of the country."
Not everyone on the reservation shares Murdock's optimism, though.
Everyone on Fort Peck sees the boom coming. They hear companies from just over the border in North Dakota, where oil drilling is growing fast in the Williston Basin, pleading for workers. They're confident they'll be next.
But members of the Assiniboine and Sioux tribes at Fort Peck, including Lambert and White Hawk, are acutely aware of the problems that came with the last oil boom. After heightened drilling and lax regulations in the 1980s, the EPA began to track the plume of salty brine water oozing toward public water wells. For years water from taps in and around Poplar has been chalky and salty to the point of making it not drinkable, area residents say. Culligan, a water purification company, delivers filtered drinking water to businesses and homes across the reservation in bottles and water cooler jugs. It's the only company nearby and its water is the only option.
Deb Madison, environmental programs manager for the Fort Peck Reservation, says well contamination on the reservation "is one of the largest groundwater contamination problems that the oil and gas industry has on record."
The process of oil exploration and drilling requires large amounts of water for hydrofracking, which forces water into an underground oil formation to crack the formation and release the oil. This process can require up to a million gallons of water per drill, says Deb Madison, Fort Peck's environmental program manager, so even regular drilling, following all the right protocol, can negatively impact water supplies and wildlife patterns.
"Any time you're pulling stuff out of the ground it's always going to be disruptive," she says.
Water used in drilling is pumped back into the ground through an injection well near the oil pump. However, when Pioneer Natural Resources, a Texas company, drilled north of Poplar, the pressure of forcing that water back into the ground near a drill loosened the concrete on the casing around it, causing the injection water to seep into the shallow aquifer that provides Poplar's drinking water, according to a report from the U.S. Geological Survey.
The well was first plugged in 1984, but could have been releasing tainted water for at least six years, Madison says. A relief well was drilled in 1985 and after additional infusions of concrete it stopped the flowing water, but the EPA reported that by then private wells in the area were contaminated.
Tests of water nearby that drill determined that it contained as many as 10,000 parts per million of salt and was extremely warm underground. Madison says people can barely stand to drink water with more than 3,000 parts per million of salt. The tribal Office of Environmental Protection commissioned a study from the U.S. Geological Survey, which determined the leaking well as the source of contamination.
Pioneer Natural Resources, which owned the well, spent about $1 million to plug it and another $1 million for technology to better inject water back into the ground. Nothing can reverse the encroaching plume, though.
More studies of the ground water are underway and more will likely be instigated in the coming years, Madison says.
This 'mud pit' is filled with a slurry of water and diesel fuel, used in the drilling process. Flags are strung across the pond to discourage waterfowl from landing on the toxic liquid.
Pioneer Natural Resources did not return calls for comment. Representatives from Samson Hydrocarbons, a Tulsa-based company that drills near Poplar, declined to comment.
Groundwater is impacted by the leak because the contaminated shallow aquifer feeds rivers and streams each fall, Madison says. Elevated chloride levels have been found in that surface water. While chloride and some of the other byproducts are harmless, others like benzene—a carcinogen—cause red flags in Madison's department. The area's highly salty tap water, even if technically safe to drink, has negative impacts. Having to buy water means people drink less than they should for their health, and the salty water can have corrosive effects on piping and fixtures, she says.
"In terms of having a comfortable home it just makes it a nightmare," Madison says.
Bad drinking water hurts opportunities to attract businesses too, she says, which means the effects of poor drinking water impact the whole area, even those who can afford bottled and treated water.
The water in the area has always had higher levels of rust and iron, but those are easier to treat than the salty water, Madison says.
The practice of putting injection wells so close to production wells is unheard of these days, Madison says. Unlined pits are no longer acceptable and pipelines are much more fortified for extremely hot and cold temperatures. More lining and more wastemanagement means more hope future disasters can be prevented.
"But you can't always predict the future and you just never know when something is just going to go really completely wrong," Madison says.
Keven Jackson leans against his red Ford Explorer in the muddy parking lot of the Fort Peck water treatment plant. He crosses his arms and ignores the icy wind and raindrops assaulting his skin.
Jackson knows the oil business on the reservation, and he knows its impacts. The building behind him is partially the result of work for a non-tribal oil company that made him successful more than 20 years ago. In the late 1980s he worked as an oil rig inspector and says the lack of regulation in the business led to a host of environmental problems on the reservation.
Contaminants are thought to enter the Poplar River miles upstream, eventually ending up in the city of Poplar's water supply wells.
He remembers unlined pits of oil and byproducts, watching oil company employees filling those pits with gravel and dirt to "clean them up," and flares burning from spilled oil.
"I was naïve," he says. "I didn't know until afterwards: holy crap, you know, something should have been done about this."
Now, the plant behind him is a sign of that naïveté's consequences. The treatment plant is part of an ongoing federally funded project to deliver fresh drinking water to homes on the reservation's eastern half, homes with undrinkable tap water.
Like most people on the reservation, Jackson recognizes the potential from drilling: jobs, infrastructure, attracting people to town. He remembers the positives of last time just as clearly as the negatives.
"I didn't think it would go away," he says. "You know I was wearin' two pairs of pants so I'd have enough pockets for all that money."
Jackson now works as an oil company liaison for TERO inspecting job sites to make sure they're hiring the proper number of Indian workers.
He says that when the expected oil boom arrives, he wants a job in the field, on the ground, watching what happens to his people's land first-hand. That's because he believes this time can be different, that drilling can be done responsibly on the Fort Peck Reservation. He says people like him will remember the last boom and will know how to prevent more negative environmental impacts.
He's hopeful his tribe can restore the honor that should come with working on the land and make sure through TERO that his fellow tribal members get the jobs that come with the development.
Regulations, monitoring and enforcement are the only hope for preventing more environmental damage, Madison says. She and others in her organization say closer monitoring on the reservation, instead of in Helena or Denver, will translate to safer practices and less detriment to the people of the reservation.
She says the department will strengthen its ties with the BIA—which is responsible for on-reservation compliance with the National Environmental Protection Act and serves as a first contact for oil companies—to help ensure it can keep up with growing interest in oil drilling on the reservation. The department also works with the Montana Board of Oil and Gas and the Bureau of Land Management to lease land to oil companies.
Still, the boom will challenge the logistics and cooperation among Fort Peck's various agencies.
"Do I think we're going to be ready? I'm not sure. I can hope so," Madison says. "We're thinking about it, so I guess that's a good first step."
Because of the expense and work that goes into drilling, oil companies are careful to avoid areas that may fail to produce oil or land leases that require too much bureaucracy to make a profit quickly.
The companies that can succeed are those that put in the most time to ensure they've met all the necessary environmental regulations and fought through all of the red tape, Madison says. Small companies don't have the time for that, so they often don't last on the reservation.
"Complying with environmental regulations is expensive. It just is," Madison says. But that's the cost of doing business in the U.S. and it's the cost of doing business here. It will be."
Tribal Executive Board Member Rick Kirn says he knows drilling can be done responsibly and he knows tribal members need jobs.
Kirn is stocky and wears jeans and a maroon T-shirt under a maroon and gray flannel shirt. His thin lips rarely curve into a smile as he talks about the land he has always called home. Kirn's gray hair and leathered hands speak to his age and to years of hard labor. He says oil drilling should be cautiously welcomed on the reservation.
"We can't be in a hurry and we can't be blinded by the economic impact as compared to the environmental impact," Kirn says.
A farmer, Kirn knows about land and about cultural ties to it, but he uses chemicals and modern technology to grow his wheat. That blending of traditional and modern values is necessary and inevitable, he says, especially when it comes to oil drilling, which he believes should be welcomed cautiously.
His colleague Tommy Christian isn't so sure.
Christian is tall and thin. He wears cowboy boots, a leather jacket and a black cowboy hat with a feather in one side and a Canadian flag pin on the other. He speaks with authority. He doesn't pause or doubt himself. He barely stops at stop signs.
A tribal spiritual leader and executive board member, Christian worries about the cultural impacts of more oil drilling. He believes federal and state governments are already ignoring existing problems, like contaminated drinking water, and he doubts whether they'll put forth any legitimate efforts to oversee future drilling.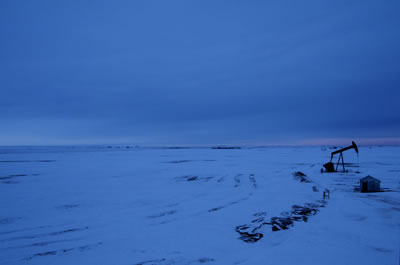 A pump jack on the Poplar oil field draws oil from the Bakken oil formation, 10,000 feet below the surface. Each stroke produces up to 10 gallons of oil and water, depending on the pump size.
Christian doesn't question his constituents' need for the oil jobs and says he works to strike a balance between looking out for their economic and their cultural wellbeing. He knows his fellow tribal members won't, and in some cases can't, leave the reservation. He knows they need the jobs.
They need them here. Now.
"This whole place could be filled with nuclear radiation and we would still be here," he says.
Driving past the oil fields and agricultural land dotted with farm houses, Lambert takes a drink from the bottled water in the cup holder between the two front seats and looks out onto the expanse, onto what that could be the answer for a struggling economy and a Pandora's box for environmental protection agencies. He and White Hawk discuss what's in front of them: the oil operations, the land, the future.
"This might be all right for us, but what about generations down the road? What about our children?" White Hawk asks. "Right now we're buying water. Who would have ever thought you'd have to buy water?"
Andy Ambelang is a senior at The University of Montana School of Journalism.