Hidden treasure
By Kate Whittle
Photos & Multimedia by Kat Franchino
Most of the Northern Cheyenne Reservation hasn't changed much since Gen. George Custer and his cavalry came trotting across the plains in their blue wool uniforms and over a rise to see thousands of Cheyenne and Siouxå Indians camped out for a sun dance ceremony. Except for a curving two-lane highway and a handful of small towns, the rolling, sagebrush-dotted plains of southeastern Montana look today as they have for thousands of years.
Just a few dozen feet under the Cheyenne dirt sits about 56 billions of tons of coal, part of the enormous Fort Union formation underlying eastern Montana. It's hard not to notice it; it can be seen in eroded hillsides from the highway and the black stuff even sometimes comes up in reservation drinking water. The reservation is surrounded by mining, from the Colstrip plant up north, to the Decker mine in the west, the Wyoming coal bed methane fields to the south, and soon, Otter Creek mining to the east. The Cheyenne have struggled against development for decades. Like many Indian tribes today, they struggle economically with an estimated unemployment rate of 60 percent. But is cutting open Mother Earth worth the jobs it would bring?
"This isn't about people. This is about land. The land won't be there," says Steve Brady, chairman of the Northern Cheyenne cultural commission. As he speaks he gestures out the window of his sister's home, where car headlights flash by in the early spring dusk on Highway 212. In 1876, thousands of Indians traveled across that very plain before being attacked by Custer at the Battle of the Little Bighorn, now a historic site on the Crow Reservation just adjacent to the Cheyenne.
Northern Cheyenne Tribal President Leroy Spang looks over a timeline for the tribe's prospective coal development. The tribe hopes to have the infrastructure for coal development complete by 2024.
Brady is semi-retired, but spends much of his time working to get historic sites designated. A fifth-generation descendant of venerated Cheyenne Chief Dull Knife, he talks with a deep, slow voice, and looks stern, save for the odd occasions when he'll crack a joke and grin.
Asked about the state of coal development on the reservation now, Brady starts with a history lesson. To understand where the tribe is today, you must understand where they came from, he says. In 1876, just months after the Battle of the Greasy Grass—the Indians' name for the fight at Little Bighorn—the cavalry attacked Dull Knife's band at the Powder River in southeast Montana. The government forced the Cheyenne to move from Montana to Indian Territory, what later would become Oklahoma. But after more and more of his band fell ill and died, Dull Knife and his followers tried to make their way back home. Intercepted, they were imprisoned at Fort Robinson, Neb., where the army tried to starve them into submission. They made an escape and most of the band were killed, but a few survivors, including Dull Knife, eventually made it to the southeastern corner of Montana, to a reservation that has been their home ever since.
"My great-grandparents fought hard for this," he says. "They fought hard for this land."
Northern Cheyenne tribal member Diane McLean stands in front of her home in Lame Deer. McLean has written several grants for the tribe, including one to start Cheyenne Depot, the only gas station in Lame Deer. She hopes that development will bring more jobs to the reservation.
That history, Brady says, is why coal development now is so contentious. Destroying the land that his ancestors fought and died for is wrong.
But in the last few years, tribal sentiment seems to be swinging the other way.
To see why people want coal, Steve Small, the director of economic development for the tribe, points outside the Little Wolf tribal office conference room to a view of Lame Deer, where tribal headquarters are located. Inside, the office is furnished with a large wooden table and comfortable chairs. Maps of coal tracts line the walls. Outside, the town is a sprawl of trailers and mostly dirt roads. Packs of dogs wander down the middle of the streets. Broken-down cars sit in front of trailers with boarded-up windows. A dirt trench alongside Cheyenne Avenue serves as a sidewalk. Most of the shops are shuttered.
For health care, shopping, movies or even a good steak, reservation residents usually drive two hours to Billings. The unemployment rate means that at all hours of the day, groups of jobless people wander the streets or stand around the administration offices.
Small says coal could fix those problems, and that's why the tribe elected President Leroy Spang in 2008. Spang, a retired coal miner, is hard of hearing and when he speaks it's in a quiet, hoarse voice. In meetings, Small often speaks for him, beginning sentences with, "The president thinks...," or "Mr. Spang here..."
The tribe could make millions of dollars from coal development. "Nothing grandiose," Small explains. "We just want a standard of living."
An empty trailer sits on a hill overlooking Lame Deer. Unemployment on the reservation is estimated by the Bureau of Indian Affairs at 60 percent.
He believes coal mining is the tribe's only real option for improving its economy. They've considered tourism, but the reservation doesn't even have a motel for travelers. And there's no money for infrastructure. "They won't let us tax here and they wonder why we don't have roads," he says.
The worst case scenario? Small says they know coal mining won't be a benefit if companies come in, take the coal and leave behind some money. And Small doesn't want to see enormous plots of the reservation torn up or any historic sites damaged.
A chart on the wall projects 2024 as the earliest that a Cheyenne mining operation could be up and running. "This isn't something we'll see, this is something our children and grandchildren will see," Small says.
To finally escape a history of oppression, the Cheyenne need a measure of independence in how their resource is developed. Small and Spang envision bringing in experts to teach them how to mine their own coal and run their own power plant. With the money, they'd fund tribal education and infrastructure, and give per capita payments to enrolled tribal members. Tribal members would be employed. Small and Spang's grandchildren could have guaranteed free education and retirement funds.
The obstacles to this are many, but the first and most difficult is tribal resistance. Small has a memo, dated 1991, about the tribe's plans to develop coal. It didn't go through then because an anti-coal president took over in 1992. The same political swing could very well happen again, but Small wants to make sure the tribe gets a legal contract for development signed so as to prevent another plan from stagnating. Next is the tribe's Class I air status, which means the quality is the same designation as accorded national parks. When Montana Power Co. wanted to expand its power-generating plant at Colstrip, just north of the reservation, in the early 1970s, the tribe fought all the way to the U.S. Supreme Court for the pristine airshed designation. It won, but now that victory could impact the tribe's own coal development. Winds don't have borders, Small points out, which is why Class I air status is tough to enforce. "Really, it's Class 2 anyway," Small says of the air quality on the reservation.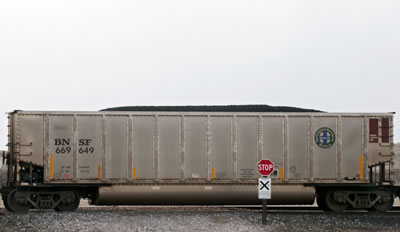 A train car filled with coal sits along Interstate 90 near Hardin.
The concept of strip mining, which requires removing acres of soil to get at coal underneath, turns off many Cheyenne. However, Spang believes reclamation is the key to good mining practice. "They reclaim better than in the '70s," he says. "Now, after they mine a strip, they have to cover it."
Small says he understands people's concerns about their traditions and beliefs, but they still need a better standard of living. "How is it giving up your culture to walk on a sidewalk?" he asks.
Other tribal members agree that they don't feel they're violating their culture to develop coal.
"They say the buffalo went into the ground when the white people came," says Vincent White Crane, a retired coal miner. "The buffalo is coming back in the form of coal, and we're just sitting on it." White Crane, a soft spoken man with short graying hair and a tattoo of "Jeanie," his wife's name, on his left hand, worked as a liaison between the tribe and Westmoreland Coal Co. for part of his career.
"Everybody needs food. Culture isn't putting food on your table."
Diane McLean
About 50 Cheyenne currently work at the mine in Colstrip. A coal miner can make more than $50,000 a year. In contrast, average annual income for reservation residents employed by private business is about $14,000, according to the Montana Department of Labor. White Crane says the good wages from mining notwithstanding, there's a high turnover rate in Colstrip because it's an adjustment for tribal members to learn how to work in mainstream American jobs.
"People think you have to give up your culture to work somewhere," he says. And "Indian time" can often be a very real issue. "To survive, you have to learn to be on time," he says.
A five-mile-long conveyer belt in Colstrip carries coal to train cars. Colstrip is 20 miles north of the reservation and began coal development in the early 1920s.
White Crane wants to see the Cheyenne prosper from their coal seams, but he's not sure it will happen. "We need a business arm of the government," he insists. "These elected officials don't know what business is all about."
He's not the only pro-coal tribal member to worry about what the tribal government is doing. Spang may have a poster with projected dates for operating plants, but many people on the reservation are in the dark. Diane McLean works for the Lame Deer Head Start preschool. The 62-year-old says she's been hearing talk about coal her entire life. "He's been there two years and we're still the same place as before," she remarks about Spang's presidency. McLean believes that with careful mining and reclamation, coal can help the tribe more than it will hurt.
"Everybody needs food," she says. "Culture isn't putting food on your table."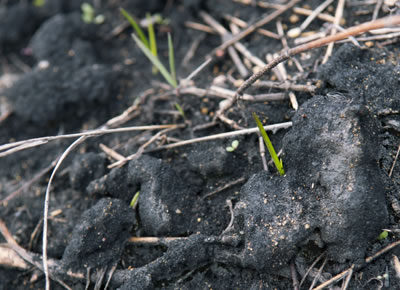 Chunks of coal sit alongside Highway 212 outside Lame Deer. The Northern Cheyenne tribal council is seeking to develop the estimated 56 billion tons of coal on its land in hopes of bringing a measure of prosperity to the tribe.
McLean is just one person who points to Colstrip as an example of what prosperity can mean in other areas, including education. She graduated from Colstrip High School, and most of her grandchildren attend it now, choosing to make the nearly 50-mile round trip from Lame Deer every day. Tribal members spent years getting the Colstrip school district to accept students from the reservation, she says, and for good reason.
"It's simple. They make AYP, adequate yearly progress, every year, and Lame Deer doesn't," she says.
Colstrip, a town of 2,400 people, owes its existence to coal. A local radio stations plays on that importance in its call letters, KOAL. Colstrip is dominated by enormous, looming coal-fire-generating smokestacks named 1, 2, 3 and 4, which pump steam, sulphur dioxide and nitrogen oxide into the sky at all hours of the day. It's the second-largest coal-fired facility west of the Mississippi. The plant, which has a generating capacity of 2,094 megawatts, is fed in part by an adjoining coal strip mine completely hidden from public view by mountains and miles of fencing. Much of the area that's visible now was once part of the mine, but was reclaimed with sod. Tribal members like McLean and White Crane say Colstrip shows how reclamation can be done.
To others, Colstrip is a horrifying vision of the future.
For cultural consultants Lynette Two Bulls and her husband Phillip Whiteman, the arguments about reclamation and benefits from mining are empty promises. "Yeah, they covered up the land again," Two Bulls says, "but it's been changed. You can't put back what's gone. You can't put back the spirits."
Charles Medicine Bull looks at land his family has lived on for five generations. He worries that proposed coal development just off the reservation will destroy the area, both culturally and environmentally.
While all talk about developing Cheyenne coal is just conjecture at this point, what is clear is that the tribe will be affected by all the mining off the reservation. East of the reservation boundary are the controversial Otter Creek coal tracts, which will be mined in the near future. Stipulations in the proposed Otter Creek mining contract state that the tribe will receive remunerative payment, since the area is historically important and Otter Creek itself merges into the Tongue River, which marks the eastern border of the reservation.
Other residents worry about whether coal bed methane in Wyoming and coal mining in Decker is hurting the tribe already, by increasing the salinity of the Tongue River.
And in a curious twist that's been more than 100 years in the making, the tribe could receive money from coal development hundreds of miles away, in Roundup. Great Northern Properties of Houston, Texas, owned the rights to some tracts in the reservation area, having purchased them in 1992 from the Burlington Northern Railroad. BN had the mineral rights, though the Northern Cheyenne had long argued that the rights should have been turned over to the tribe. Recently the rights were swapped for rights to federal land in the central part of the state, near Roundup.
Great Northern says it will retain 60 percent of the royalties from leasing the estimated 145 million tons of coal and give the remainder to the Northern Cheyenne tribe. The land swap has to clear Congress and that legislation is pending.
A man bikes past Colstrip's sprawling power plant.
Tribal officials are making efforts to move the tribe toward coal development. The tribal council approved a resolution in January to formally request a division of the U.S. Department of Interior to give advice for the "the tribe's initiative to plan environmentally sound development of its energy and resources."
Councilman Jace Killsback was leaving the tribal headquarters on an afternoon in April after a council vote to form an exploratory energy committee. He said he's anti-coal, but he wants to be there to make sure it's done right. Recent tribal resolutions are just a very early step in a long process. But he can see the future.
"Looks like it's going to happen," he says.
Kat Franchino is a senior at The University of Montana School of Journalism.