Story by Drew Novak, photos by Hope Freier
It was the North Dakota license plates that immediately stood out to the Thunderchilds.
Sixteen-year-old Prairiedawn Thunderchild and her 13-year-old younger sister, Tah'nee, were walking to their apartment in northern Wolf Point on Aug. 1, 2018. The evening was warm and sticky as they tend to be in the late summer, but the sky was clear as the girls walked past Southside Elementary School.
Then a light blue car containing two men, who the girls would later describe as "non-white," slowly sidled up alongside.
This is not necessarily an odd thing. Wolf Point is the largest town in the Fort Peck Indian Reservation in northeast Montana. The reservation of mostly Assiniboine and Dakota members covers more than 2 million acres, but Wolf Point has a population of approximately 2,700 people. And like many small towns with largely Native American communities, friends and family bonds are strong.
"My kids know everybody," said their mother, 39-year-old Katie Thunderchild, who was in the nearby town of Poplar that evening. "We go to a lot of community things. We know."
However, there is a shadow cast over the region, perhaps one that had the sisters hypervigilant, suspicious of anyone, especially with those license plates.
"When I saw the North Dakota plates, it made me think it was 'mancamp' or from the oil workers," Prairiedawn Thunderchild said, pronouncing both words of the term mashed into one. "What was going through my mind was they would go and do things to me, or that I would never see my family."
Although the men in the car were never caught, the three Thunderchilds are certain of two things: The men in the blue car intended to do the sisters harm, and the North Dakota plates meant the strangers likely came from laborer lodging facilities on nearby oil fields — man camps — in Williston and Watford City. Both towns are near the site of an oil boom that started in 2006 and peaked in 2012. A perceived increase in violent crime has been present ever since.
So, the sisters ran. They ran to a nearby park while Tah'nee Thunderchild made the call to local city police, the Wolf Point Police Department.
"We had to run," she told dispatch, "because the guys got out and they told us to get in their car. We had to run."
According to the police report, Officer Tyler Osborne escorted the girls home, but he was unable to locate the men in the light blue vehicle with the North Dakota plates. Katie Thunderchild even picked up the search herself.
"My mother instinct was, 'What? Let's go find it,'" she said. "Every blue car that drove by… but we couldn't find anything."
"You see people around here you've never seen before," Katie Thunderchild said. "[Man camps] got to be related somehow. The more [oil development] comes about, it's gonna shake everybody."
Laborer lodging facilities have become a necessity for massive energy development projects, which tend to create booms in both economy and population for small, rural towns. They have also become a common core concern in light of the Missing and Murdered Indigenous Women crisis, as the cause for much of the victimization of Native American women across the country.
This idea isn't entirely ill-founded. According to the Sovereign Bodies Institute, there are currently four missing and 12 murdered Native American women from the Fort Peck Indian Reservation, though numbers are almost certainly higher, as many go unreported. A 2019 study from the U.S. Bureau of Justice Statistics described a 23 percent increase of violent crime in the Bakken oil region during 2006 to 2012, while regions outside it dropped 8 percent.
These numbers coincide with the already high rates of violence against Native American women. According to a five-year study released in 2018 by the National Congress of American Indians, 55 percent of Native American women have experienced violence from an intimate partner in their lifetime.
The picture of man camps many hold is often frightening. Dozens, sometimes hundreds, of men seeking high wages crammed into a tessellation of hastily built shelters, barely supervised and as close to the stereotypical lawless "Wild West" as it gets. They are seen as hubs for drugs, human trafficking and violence, an image the facility administrators try to avoid.
"We don't even call ourselves a man camp," said E.J. Ross, an office administrator at Aries Residence Suites, a lodging facility in Watford, North Dakota. "The association with that name conjures up visions that, I don't care how good of a marketer you are, you say 'man camps' people have one mindset."
As the Keystone XL oil pipeline inches ever closer to reality, so does a man camp in Nashua, Montana near the Fort Peck Indian Reservation's southwest border. This stokes fears among the tribal communities that the number of crimes against the tribe's women will only increase.
Fort Peck Tribal Executive Board member Marva Chapman underlined these concerns: "The bottom line is a pipeline is contaminating to our water and to our people."
A study released in 2016 by the Montana Board of Crime Control Statistical Analysis Center and the University of Montana's Criminology Research Group revealed members of the community felt most unsafe in Roosevelt and Richland counties. More than 75 percent of Roosevelt County lies within Fort Peck Indian Reservation and contains Wolf Point and Poplar. Richland holds the town of Sidney, Montana, the home of Sherry Arnold.
For many non-Native Americans outside the Fort Peck reservation, Arnold's death provided their first introduction to the dark underbelly of oil booms and the influx of outsiders who arrive to take advantage of them.
Arnold was a well-respected high school teacher in Sidney, roughly 50 miles from both the Fort Peck Indian Reservation and Williston's own man camp. After disappearing in January 2012, her remains were found more than two months later near the North Dakota town, an area in the midst of an economic and population upswing due to energy development. Arnold's killer — Colorado's Lester Van Waters Jr. — previously told family and friends he was in the region to seek work on the Bakken oil fields.
Unchecked growth and the outsiders who come with it inflamed a common fear among surrounding communities: the oil boom and violent crime were linked.
"You can go on Facebook, you can go on social media, you can find news reports, and a lot of that is personal and anecdotal," said Missoula Urban Indian Health Center's Ivan MacDonald. "You know like, 'My sister went to a man camp to find work and was missing for months.'"
MacDonald is part of a program focusing on holistic and culturally-based care. He and his sister Ivy are also filmmakers working on their first feature-length film dedicated to the Missing and Murdered Indigenous women crisis.
MacDonald is hardly alone in his mission. Activist Angeline Cheek is a Wolf Point resident and calls the reservation home. The 30-year-old is an enrolled Dakota/Lakota tribal member and has been a vocal opponent of energy development in and around tribal lands for years, citing the trauma such projects can incite, both environmentally and socially. She believes there is an unequivocal connection between man camps and missing and murdered Native American women. Allowing for their construction brings far more harm than good, she said. And people need to know about it.
"You have to know your role," she said. "My role is to educate the people."
The Red Bird Woman Center in Wolf Point is also well-versed in dealing with trauma related to sexual and physical violence. It is not the easiest place to find. There are no large signs covering its nondescript outer walls, no flashy advertisements to draw people in. This is by design. The women and children who need this support don't have to worry about their abusers stumbling into its otherwise welcoming doors. This covert attitude extends to the center's employees, who all declined to have their picture taken. The risk of visual identification is just too great for the women to feel comfortable.
The center has been in service since the 1980s, providing counseling, shelter, and domestic violence, drug and alcohol abuse support. The women who run the center believe in the power of awareness and education as oil development springs up around Native American communities, bringing with it all too familiar burdens.
"Indian country wasn't prepared for such a boom," Crisis Counselor and Senior Family Support case manager Ann Denny said. "More traffic will bring more people who want to spend money and who will put our women and kids in danger."
Family support case manager Angela Kennedy also believes higher numbers of outsiders with cash to burn spell trouble.
"The people who work in the camps may not be safe people," she said. "They make a lot of money fast, and they don't know what to do with it."
What they do with it, according to the Red Bird Woman Center, is funnel it into narcotics, particularly methamphetamine. Young women meet men from outside the Indian communities and become addicted to substances, at the mercy of those willing to exploit that for sexual purposes, Denny said.
Violence against women is not the only issue facing reservation residents. There are concerns over water quality, drug and human trafficking and the environmental impact of adding more and more pipelines to the region. And with those, of course, come more man camps.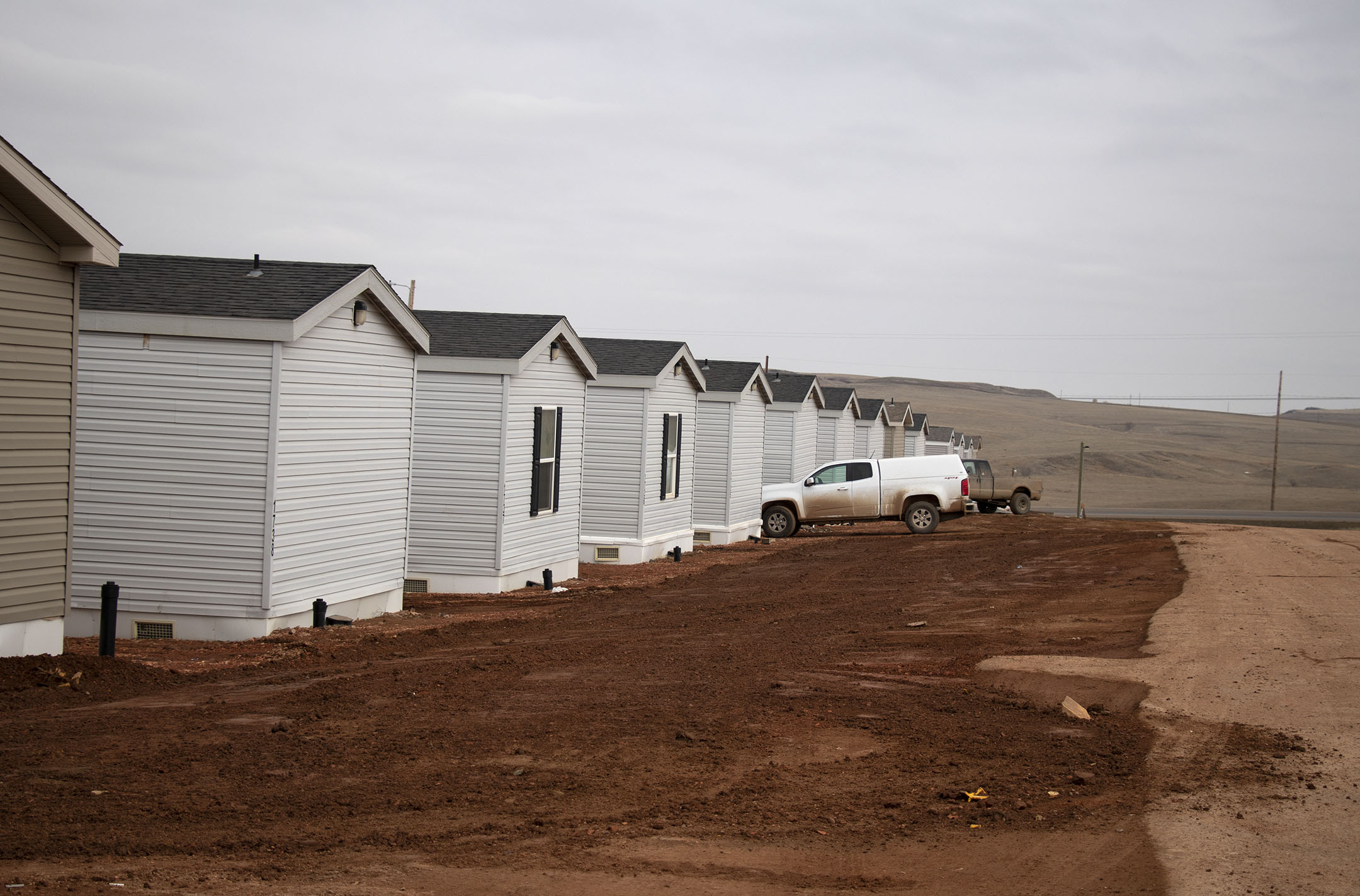 Entering the Bakken and Watford Place man camps, collectively known as Aries Residence Suites in Watford City, North Dakota, the first thing you notice is the mud. It's a rusty orange slop peppered with equally rusty orange pebbles. It coats the roads that weave through the rows of identical mobile home-like structures and sticks to everything. It's spattered up the sides of tenants' cars, their boots, the modest landings in each doorway.
Aries Residence Suites can house 300 residents. The camp is located near North Dakota's western border and about an hour and a half drive east from the limits of the Fort Peck reservation.
The camp is surprisingly mute during the day. Laborers leave their rentals empty as they work in nearby old fields. As evening approaches, most head straight to their accommodations. A few stop by the main office briefly to pick up mail. A man, both his arms covered in tattoos, haggles with site supervisor E.J. Ross over rental pricing.
The Bakken oil boom affected Watford City hard, with a population that soared from 1,744 in 2010 to 6,523 only seven years later. More than tripling in size puts a strain on any city, and men drawn by the promise of hard-earned oil money need places to stay. That's where companies like Aries come in, providing support for a housing infrastructure that just couldn't handle such explosive growth.
Though painstaking efforts are taken to distance themselves from the "man camp" label — these are "residence lodges," as Ross said — it is true areas like these are built mainly to take care of men working the nearby oil fields. But women and children are not forbidden from staying at Bakken Suites, said camp manager Jeni Belman. Belman lives in a private unit herself, as many Aries employees do.
Aries contains temporary housing that can cost as little as $25 per night for the four-occupancy "dormitory style" units with shared kitchen and living space. Those looking for something more private can even stay in "executive suites," fully-private cabins with kitchen appliances costing $45 a night if staying for more than a month. With housekeeping and all utilities included in the price (and internet and T.V. to boot), it's no wonder these arrangements have a widespread appeal.
Aries Residence Suites might be ritzier than any image the term "man camp" might engender — stereotypical magnets for criminals of all sorts, void of good intentions — but Ross believes there is some truth to the hype.
Background checks are more "unofficial" than exhaustive, sometimes involving little more than a Facebook screening. Alcohol is allowed on-site, though guns are only relegated to tenants' vehicles. Ross has personally had to step in on occasions men become "a little too fixated" on female residents. And people are notoriously unpredictable.
"You never know who you're going to meet," he said. "You don't know what's on their mind."
Eastern Montana and western North Dakota's isolation and "badlands" locale can also be attributed to an element of danger. It's the sort of place drivers need to keep a close eye on their gas tanks; the next pump could be miles away. Something is bound to happen occasionally in a space that vast, Ross said. He recalls "six or seven" instances of missing women cases in the last year.
"This is a state where people disappear," Ross said.
Lieutenant Brian Erwin of the Wolf Point Police Department isn't so sure increased violent crime rates can be blamed entirely on oil development and man camps. Drugs, alcohol and the violence that accompanies such things have been issues on reservations for decades, he said.
"We don't have to look for some crazy new reason when we know what goes on," said Erwin, who has worked with the police department since 2000. "Why do the women who live here get victimized every damn day? Native American women are abused and neglected here on a daily basis from the earliest ages."
Fort Peck tribal police Captain James Summers is also reluctant to put too much focus on the introduction of man camps to the region. Summers has been a member of the tribal police for 27 years, and chief for five. He cuts an imposing figure, quiet-voiced but direct, even seated behind his desk at the Bureau of Indian Affairs building in Poplar, 22 miles east of Wolf Point.
Summers believes the Bakken oil boom is responsible for an explosion of narcotics, especially opioids, more than anything.
"It's tough to say that domestic violence is influenced by the Bakken," Summers said. "It's always been a problem here. Whether or not it's influenced by the Bakken, I don't know."
But according to Angeline Cheek, the rates of missing and murdered indigenous women have reached crisis levels. Cheek was inspired to create a "community action plan," a set of guidelines for local townships to address the problems that Native Americans face. It contains points like the need for a more responsive police force in cases of missing persons and human trafficking, of course, but also increased cultural education so youths "know how to behave as a Dakota."
There is a section dedicated to teaching youths about trafficking and how they can protect themselves. Another asks for more intensive trauma training for those directly involved in such cases. Cheek's main goal is to educate, a role she says she was born to do. As the Nashua camp seems likelier each day, it's more important than ever for community members to brace for the future, Cheek said.
"Our ancestors used to prepare for harsh winters to come, gathering berries and drying meat," she said. "Today we have to keep our children safe, our elders."
Indeed, the Fort Peck Tribal Executive Board does seem to be coming around to the concept. As of the council meeting on March 28, the leaders say they hope to implement an action plan similar to Cheek's for speedier responses in the near future.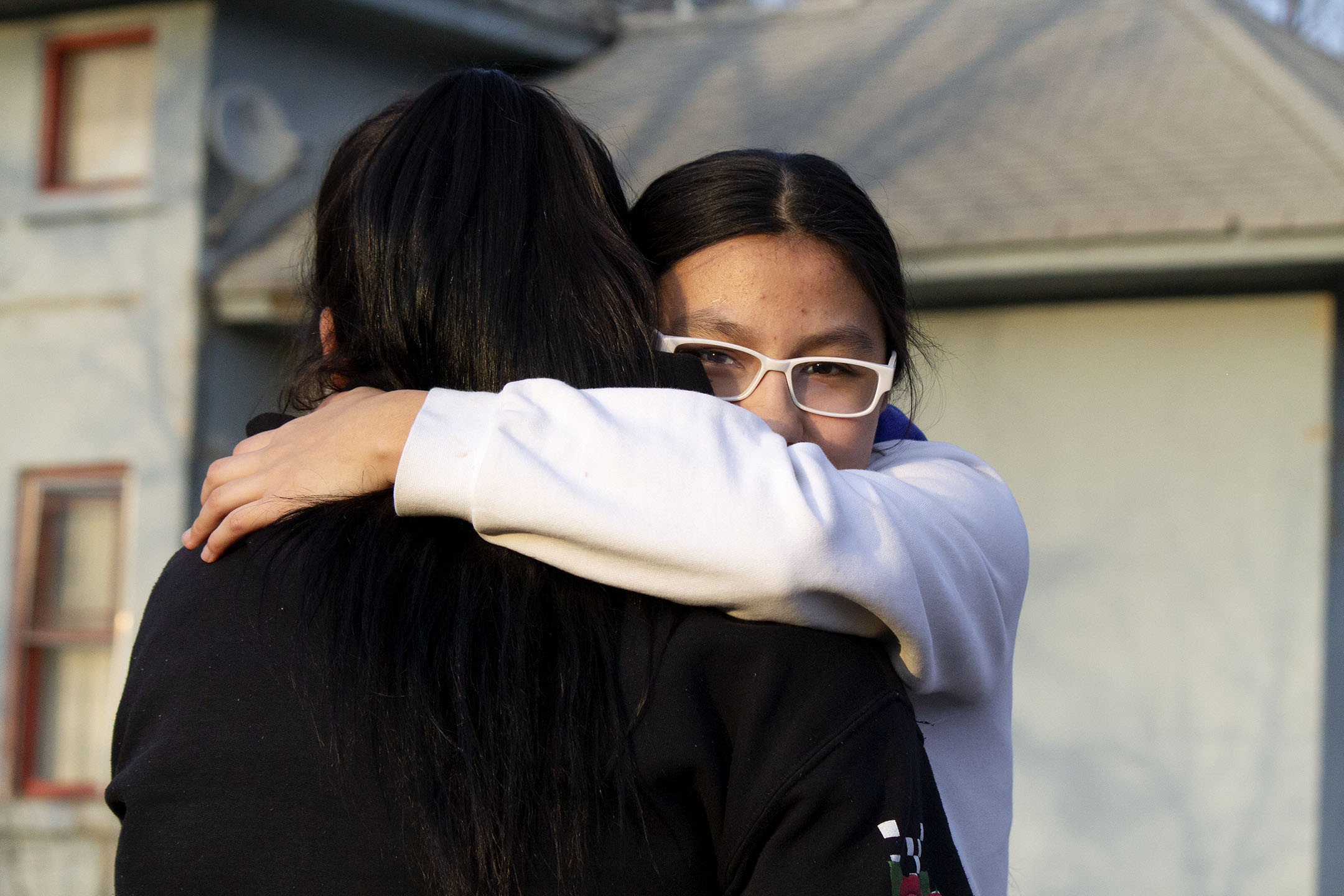 For the Thunderchilds, life goes on, even if the family is shaken by the experience. Katie Thunderchild has since doubled-down on her "mothering instinct," fearing for her daughters anytime they are left alone. Each day, local news highlights a missing woman, man or child, she said. What should she think if her daughters haven't checked in within 20 minutes? An hour? With man camps so near, Thunderchild's mind jumps to the worst.
Prairiedawn and Tah'nee are all smiles now, beaming while they show off traditional regalia they have sewn themselves hanging from their bedroom walls. They debate with their mother about what to get for dessert at McDonald's. A vanilla milkshake? No, no. Strawberry.
But the events of that August evening stick like that rusty North Dakota mud. Worry turns to panic swiftly these days when the girls haven't made recent contact, a feeling increasingly shared by others in the family.
"My grandmother's like that," Thunderchild said. "She's always been like that, but now it's more."
So mom never lets them go anywhere, Tah'nee Thunderchild said with an understanding sigh. At least, not without following the rules. There are boundaries to where the sisters can walk alone. They must carry a cell phone at all times.
"We used to go for walks and nobody would bother us or anything until that day," Prairiedawn Thunderchild said. But now, "we watch out for men."