FORT BELKNAP – A Long Way to Go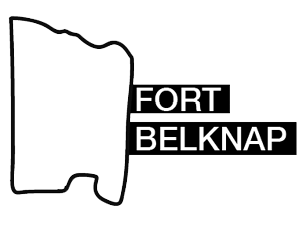 By Emily Wendler with Photos & Multimedia by Jayme Fraser
The cold April morning wind cuts through their jackets, causing people to shiver as they wait for their ride to work.
But Gerri Stiffarm escapes the cold in her car, which sits idling in the parking lot. She waits for the bus to pull in.
As soon as the shiny white vessel appears, the faces of those waiting outside light up at the thought of the heat and a comfortable seat. Stiffarm is just glad she only has to pay a dollar to get to her job 45 miles away.
Stiffarm works at the Aaniiih Nakoda College on the Fort Belknap Reservation as the Success Center coordinator. Although she's an enrolled tribal member, Stiffarm doesn't live on the reservation, and said there's no way she ever would.
"There's nothing to do there," she said. "There's no extracurricular activities or decent housing."
So instead, she lives an hour away in Havre and rides the bus to work every day.
The road linking these two communities is U.S. Highway 2. For some people in this rural area – home of the Gros Ventre and Assiniboine tribes, this road is an escape route, leading to a better opportunity. For others it is simply a conveyor belt getting them to and from work. Some think of it as an obstacle due to lack of transportation, or expensive gas.
But the creation of a bus system in 2009 was supposed to change that. It was supposed to connect the people on Fort Belknap, where unemployment reaches 70 percent, with job opportunities in Havre – a town where unemployment is below the national average.
But few ride the bus into Havre for work and many only exacerbate the economic challenges of Fort Belknap by taking what little money they have to businesses off the reservation.
"THE OPPORTUNITIES ARE THERE; WE JUST NEED TO FIGURE OUT WAYS THAT WE CAN BUILD THE BRIDGES TO GET THERE, SO THAT WE CAN BUILD THE OPPORTUNITIES THAT ARE NECESSARY TO GENERATE PROSPERITY."
Barb Stiffarm,
Executive Director
Opportunity Link
Before the bus existed, expensive tanks of gas and a lack of transportation separated Havre and Fort Belknap. It was a challenge for people getting to work, school, and recreation, said Barb Stiffarm, the executive director of Opportunity Link.
Opportunity Link is a non-profit organization dedicated to reducing poverty in northcentral Montana. Through the organization's research, it found that an inexpensive and reliable transportation system could really benefit people. This sparked the idea for the North Central Montana Transit system – the bus. "The opportunities are there; we just need to figure out ways that we can build the bridges to get there, so that we can build the opportunities that are necessary to generate prosperity," said Barb Stiffarm, who is not related to Gerri Stiffarm.
Barb Stiffarm said before the bus system, the cost of getting to work made it seem like it wasn't worth the struggle.
"We've had a lot of people who have tried," she said. "But when the majority of their paycheck is going out the window because they're having to drive those distances, they give up trying. So we're not keeping them in those jobs they need to be in."
Opportunity Link's buses are getting people from Havre to work on Fort Belknap, but, for the most part, they aren't helping people living on Fort Belknap get to work in Havre. Instead, most people use them to go shopping, run errands, or get to school in Havre.
Tracy King, Fort Belknap's tribal council president, thinks racial tension may be holding people back.
"When I was younger I had to out work all of these Indian haters," he said. "Every place I went to work off the reservation, somebody wanted to challenge me."
King is a tall man with light-colored eyes framed by glasses. Most days he wears jeans, a plaid button up shirt and a black cowboy hat to work.
His voice is friendly but assertive, and he takes time to think before he speaks.
"I've cussed a lot of people out that put me down because they thought their education is way up here, and our Indian people is way down here," King said. "And I would tell them, 'This is bullshit. I'm not going to put up with it.'"
He said most young people don't want to endure the discrimination they feel, so they just go back to the reservation to find work.
"You know, it's different because they expected me as well as others to fail," he said. "That's what they want us to do is fail."
Barb Stiffarm says the main challenge in getting people to take the bus for work in Havre is the bus' schedule. Even though it gets in to Havre at 9 a.m., it leaves by 3 p.m. to get back to Fort Belknap, and that doesn't fit the typical workday.
"It's just one of the constraints on the system that we have," she said. "There are people that we're missing out on being able to ride the bus because of the schedules."
Barb Gardipee, a tribal member who lives on the reservation, said it's the long ride and the hours of the bus that keep her from using it.
"That's too much time to get there," Gardipee said. "And if I had an 8 o'clock job in Havre I wouldn't be able to make it."
Gardipee concedes that if the bus could get her to a job with regular hours, from 8 to 5, she might take it. But then said she'd have to find a ride from her home in the southern part of the reservation to Fort Belknap Agency in the north, where the bus picks up people.
"It's just messy," she said.
Despite the fact that the schedule isn't perfect for people looking to work in Havre, Stiffarm is very proud of what the bus has achieved.
At first, Opportunity Link predicted it would have about 250 riders a month, but they underestimated. When the transit system started in 2009, Stiffarm had to scramble to find bigger busses to accommodate all the riders. Now, the system averages around 1,600 rides a month.
Shawn Snow, a 55-year-old man who rides the bus two or three times a week from Fort Belknap to Havre, said he loves the bus because it gets him out of the house and gives him an opportunity to mingle.
"It allows me to get to therapy, saves me money, and gets me to the library," he said. Without the bus, Snow said he'd probably just stay home and daydream.
"I'd get bored and I'd be depressed," he said.
Snow lives in Hays on the southern end of the reservation and rides the shuttle to Fort Belknap Agency at 7 a.m. so he can catch the bus to Havre. If it weren't for the bus, Snow said he would have to pay someone $30 to take him to town. He also said he'd only get to see his therapist about once a month, but with the bus he's able to go once a week
King, the tribal council president, agrees the bus has had a positive effect on the people living on the reservation. He said it saves people money, which allows them to have better lives, put more food on their tables, buy nicer clothes and boost their self-esteem.
"You can see the difference in people, even when they're waiting for the bus," King said. "It's like an excitement about it, like 'Hey I got a ride. I can go to school without worrying.'"
But Michelle Fox, who heads an economic development group on the reservation, doesn't want people like Shawn Snow to have to go to Havre every time he needs a basic good.
Fox's organization, Island Mountain Development Group, works to create business on the reservation. It's started a deli, coffee kiosk, small grocery store and restaurant.
"We wanted to build a few businesses where we don't have to send our money over (to) town everyday," she said. "The biggest problem here is that our money doesn't stay here."
Fox said the tribes have a $400,000 payroll that flows off the reservation almost immediately. This is great for the surrounding communities, but not her own.
"Look around. Do you see any construction? Do you see anyone building houses? There's no commerce here," she said.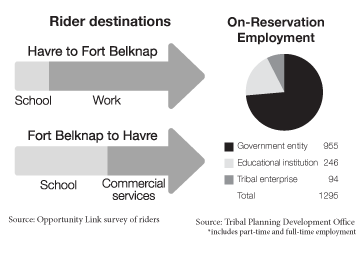 And the lack of commerce does not encourage economic growth, and therefore leaves unemployment rates at a standstill.
Even if the bus isn't carrying people to work, and isn't keeping money on the reservation, it is at least carrying some people to a brighter future.
Jessica Long Knife, a 21-year-old college student, wakes up at 6:30 a.m. to get to school at Montana State University-Northern by noon.  Long Knife lives on the southern end of the reservation, so she first she catches the shuttle that travels the 35 miles from Hays to Fort Belknap Agency. She then catches the bus to Havre.
Each day, Long Knife spends four hours getting to and from school, traveling a total of 160 miles.
"You have to be really dedicated to ride the bus," she said. "Especially living so far from school."
On her way to Havre, Long Knife usually sits in the same seat everyday — the one right behind the wheelchair lift. She puts her feet up on the metal bar in front of her, slouches in her seat and stares out the window at the landscape racing by.
She lets her mind wander, but also considers all of the things she has to do. She is a biology student with the goal of becoming a doctor.
Life was a little easier for Long Knife when she was getting her associate degree in allied health at the tribal college on Fort Belknap. Now she has to schedule her classes around the bus.
"I was in genetics but had to drop it because it was a night class and I didn't have a ride home," she said. "I really wanted to take that class."
Long Knife said she's wanted to be a doctor since she was 8. The bus brings her closer to reaching that goal every time she takes it to school.
"I probably wouldn't be going to school if it weren't for this bus," she said. "I'd probably try to get a job first, so that I could move to Havre. Then I'd go to school."
Having the bus lets her live on the reservation where she can be with her boyfriend and take care of her younger brothers and sisters.
"It's irritating sometimes, but it's worth it," she said. "My life would be totally different otherwise."