Sammy Ray Dupree stopped giving herself insulin shots at school after a classmate accused her of shooting up crank.

Like two others in her family, 14-year-old Sammy is an insulin-dependent diabetic and must inject herself with insulin twice a day. That means giving herself a shot between classes at the junior high school she attends in Poplar on the Fort Peck Reservation in northeastern Montana.

Sammy has permission from teachers to give herself insulin in the relative privacy of a bathroom stall, but in Poplar, which has a severe problem with methamphetamine use, hypodermic needles have a bad connotation.

So when Sammy's classmate saw her capping a needle as she walked out of a stall, the girl assumed the worst. Sammy is sensitive about her condition to begin with, and after being falsely accused, she'd had enough.

"Ever since then," Sammy says, "I never did it at school anymore. I just wait until I get home."

Sammy and her family are struggling to live with Type I diabetes, a form of the disease uncommon in American Indians. Type II, which usually develops first in adulthood, is epidemic among Indians, affecting more than 12 percent, twice the rate of occurrence in the white population. The incidence at Fort Peck mirrors the national rate at 12 percent.

Sammy, a sister and her father all live with this life-threatening disease. It's been both a physical and emotional struggle, made even more difficult when the girls' mother contracted cancer, which is the second leading cause of death in American Indian women.

American Indian families are hard hit by disease. Indians in Montana have a life expectancy of 10 years less than white Americans nationwide. And the federal government spends half as much per tribal member as it does for health programs for other Americans. However, in many Indian families, like the Duprees, while health concerns are pressing, the ways in which they cope are complicated.

Sammy says she hates living with her diabetes, hates the way it makes her different from her classmates, and hates talking about it.

The youngest of five sisters, she shares the illness with her 19-year-old sister Rosebud and her 51-year-old father Raymond Dupree. All three have Type I diabetes, which means their bodies produce no insulin.

Insulin is a protein made by the pancreas that allows sugar from the bloodstream to be transferred to the cells for use as energy. For Type I diabetics, in order to keep blood sugar from getting too high—a condition that can lead to a coma and eventually death if not treated—insulin must be injected into the bloodstream.

Type I used to be called juvenile-onset diabetes since it usually appears during adolescence. Rosebud developed diabetes when she was 6. Her mother, Gail Charbonneau, remembers Rosebud asking one night for glass after glass of tea with sugar. Gail didn't know at the time that excessive thirst, along with frequent urination, are warning signs of diabetes.

Yet while she didn't recognize the symptoms of diabetes, Gail certainly knew the treatment, having learned to give insulin shots to her grandmother when she was 14, as well as living with a diabetic husband.

When Rosebud first became sick, Gail carried her into the emergency room at the Poplar hospital at 2 a.m., but the clerk at the front desk didn't understand the seriousness of her condition and told Gail to come back at 8 a.m. Realizing that her child was in danger, Gail ignored the clerk and stormed past her to the doctor on duty. The physician took one look at Rosebud and tested her blood sugar. Normal blood sugar content is from 70 to 120 milligrams per deciliter. Rosebud's level was 907. It wasn't long before she lapsed into a coma and had to be flown to Billings for treatment. She survived, but from that point on, she and her family were saddled with the lifelong responsibility of caring for a diabetic.

Diabetes can kill, but it can also be controlled by insulin, diet and exercise. However, what Gail Charbonneau faced five years ago was not so easily conquered.

Gail was diagnosed with breast cancer and because of the severity of her condition she needed experimental treatment the Indian Health Service would not cover.

Doctors warned that Gail would die without the stem-cell treatment, but the $80,000 price was far beyond the family's reach. They searched for programs or grants that might provide the money Gail would need to have a shot at survival.

Even as she grew sicker, Gail tried everything to earn the money. One day as she dug echinacea roots to sell, her sister came running to tell her that her mother, Myrna Charbonneau, had found a way.

After hearing pleadings from Myrna, the family says a doctor at the Indian Health Service in Washington, D.C., was able to redirect money set aside in a disaster fund to pay for Gail's treatment.

"I was just happy, because this thing was hanging over my head and if I didn't have it, you know, I was gonna die and what'd happen to my girls?" Gail says. "That was the best thing I ever heard."

Within 24 hours, Gail and Myrna were on their way to Billings for the treatment Gail needed. But her stay would be long and the treatment difficult so Gail sent her daughters to live with their eldest sister in California, splitting up the family. Myrna, a nurse, knew Gail would need her by her side, so she went along though it meant giving up her job.

Again, money seemed a barrier. Faced with no income and setting up a second household 300 miles from home, again Myrna found a way. She sold her mineral rights on land that she owned at Fort Peck, land that had been deeded to her family during the allotment of the reservation.

Gail and Myrna moved to Billings to begin the treatment. But paperwork from the Indian Health Service didn't arrive so they spent the first month waiting.

At Christmas, Gail's daughters came to visit, but her doctor warned that she shouldn't leave the hospital.

She remembers his words exactly: "He said, 'You know, you're a walking dead woman,' because I had no immune system."

But Gail went anyway and while she was with them, she sneezed, and her nose started bleeding and wouldn't stop. Her family rushed her back to the hospital and she was given pills to help her blood clot.

Even with all that, Gail says the most difficult part of her treatment, which lasted a year, was being away from her family.

Eager to get back to Poplar, she was relieved to hear that some final stages of her treatment could be completed on the reservation. So she moved home, then found it wasn't so. They returned to Billings and completed the regimen and then went back again to Poplar where she could resume taking care of her children.

After spending her life caring for others, cancer had forced Gail to care for herself. But she's now been cancer-free for three years and has gone back worrying about the other potentially deadly disease that affects her family.

Just as Gail now understands intimately the physical havoc cancer can wreak, she knew already the damage diabetes can do. She and her sisters watched their grandmother suffer from the disease.

Gail's sister Jeannette Charbonneau lived with her grandmother for a time and remembers the way diabetes slowly ate away at her body.

"They cut first her foot off, then this part off," Jeannette says as she points to her calf. "Then she got this other one (foot) cut off. And she lost her sight, and after she lost her sight she just decided to kind of give up. She wouldn't eat. After two weeks, she starved. She said she had a long life. She was 89."

Diabetes is a full-time disease that cannot be ignored.

Pauline Boxer works for Fort Peck Diabetes Outreach and after having watched her own mother die from the disease, and then getting it herself, she has devoted her life to educating other Indians how to live with it. She says she knew the disease only as a name growing up, but never thought about its implications or that she might someday get it.

"When I found out I was a diabetic, it about blew my mind," she says. "I said 'I don't want to be a diabetic,' because I seen what my mother went through. My mother was a Type II diabetic; she ended up on dialysis, she ended up getting her fingers chopped off, she went blind, she lost her hearing, and then she just had a heart attack. I don't want to see anybody go through that."

Pauline knows many people are in denial about diabetes but she knows too well the consequences.

"I look around and I see people younger than I am that are completely blind because they don't want to do anything with their diabetes," Pauline says. "They don't want to take any kind of education. They don't want to commit to the program and listen to the nutritionist. They don't want to come in and see the foot doctor. They don't want to get their eyes checked. They think they have diabetes and nothing else is gonna happen to them. But that's not true. People are losing their limbs because of diabetes, people are going blind because of diabetes. People are having heart attacks, people are ending up on dialysis. It's a sad thing to see most of our Indian people with diabetes."

Although the Dupree family deals with the less common Type I diabetes, the health risks are still formidable.

Raymond, 51, was told five years ago he would be blind within a year, but has managed to keep his vision so far.

Rosebud, now 19, has gone into a high-blood-sugar-induced coma more times than Gail cares to count and has already been referred for dialysis treatment, though she has managed to avoid it by taking better care of herself. If diabetics let their blood sugar fluctuate too much, it can eventually lead to kidney failure. Dialysis cleans a person's blood of toxins when their kidneys begin to fail.

Rosebud sounds resigned to the probable progression of her disease and eventual dialysis.

"If I need it, I'll probably just go ahead and do it," Rosebud says, but also says she accepts what might eventually happen.

"I'm just not afraid of dying," she says.

Rosebud is also on a list to receive a pancreas transplant. The pancreas produces insulin and is usually transplanted in concert with a kidney. But because of the powerful immunosuppressant drugs a person must take to keep the body from attacking the foreign organ, 15 percent of patients who receive a new pancreas die within five years.

Jeannette says Rosebud's outlook changed after she came out of one of her more recent comas and that since then she has been taking better care of herself.

"Rosebud came out of that coma different," Jeannette says. "Her whole perspective was more positive."

But Gail and her sister Jeannette are pleased with what they see as progress on some fronts, but still worry about Rosebud, who has been living by herself for four months.

"She's got her phone shut off now," Gail says. "God, if somebody doesn't hear her, you know? What if one of these days we go over there, she's in a coma? I just want to move her back to the house; I'm not comfortable."

And even if Rosebud is better, Gail thinks she has a way to go before she is doing all she must to get healthy.

"She won't even go over there (to the hospital) by herself," Gail says. "She's still like a child. She'll come over to the house and sit there, 'Mom, I'm sick.' I say 'You want to go the hospital?' She goes, 'Yeah.' She won't go over there by herself, so she waits around for me to take her. She gets dehydrated. She was wearing a size 9 pant, and she's down to like a 5 now. It just takes a toll on her. She's still sickly right now."

Both Rosebud and Sammy say Raymond was a poor role model with his denial of his disease.

"Probably where I learned to be ashamed of my diabetes is from my dad," Sammy says. "He don't talk about it at all."

Gail agrees.

"It probably comes from their dad," she says. "You know when I first met him, I heard he was diabetic, but I'd never really seen any of his medicine until 8 months later when he got sick. He's done insulin shots since he was 15. I mean he kept it from me, he wouldn't even tell me he was diabetic. I knew he was. He's real private. He won't tell anybody and if he got sick, he just got sick."

Raymond declined to speak about his illness for this story. Gail says after Raymond developed diabetes when he was 15 years old, he would have to walk to the government health clinic every day to get his insulin shot. He has hated going to clinics ever since.

"He still to this day won't go up and get his own medicine," Gail says.

Gail says Raymond's fear of getting help and his denial of the disease have had their effect on Rosebud and Sammy. She says because Raymond doesn't always eat enough, he frequently goes into seizures from low blood sugar and has to be held down to have Kool-Aid poured in his mouth.

"It scars the girls the most seeing their dad like that," Gail says. "They never want to be like that."

Rosebud says if she has children, she hopes things will be different, but isn't sure they will be.

"I wouldn't want my kids to go through the same things I went through," she says. "I'd probably try to talk to them, but I don't know until that time comes."

Sammy still struggles to come to terms with her illness.

"I don't like it at all," Sammy says. "I hate living with it. It really sucks."

And Gail, dealing with two daughters and a husband with diabetes, just tries to take it as it comes.

"You have to deal with it one day at a time," Gail says. "Living by the needle isn't easy."
Rosebud Dupree injects her belly with one of the two daily doses of insulin that her body requires to function. When Rosebud was first diagnosed at the tender age of 6, her older sisters had to learn how to give the injection. Now, says Rosebud, she's even taught some of her close friends how to give the shot.
The Dupree sisters, from left, Raylene, Sammi Ray, Shyann, Billie Ray and Rosebud gather for a photo opportunity in the youngest, Sammi Ray's room. The girls got the giggles after Raylene squeezed on to the side of the bed, breaking the springs and collapsing the backside of Sammi's new bed. Despite the suprise, the five seemed happy just to be together.
Family members, from left, Billie Ray, Brenden, Rosebud, Sammi Ray and Brady, gather around their mother's table for dinner. Even though Sammi Ray is the only child still living with Gail Charboneau, Gail's home is always filled with family. Billy Ray says it's a place where the Dupree children can get together to visit and resolve problems they have.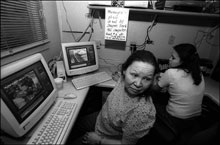 Gail Charboneau peers out of the tiny Tribal Express office where she and her daughter Rosebud work. Gail is the manager of three gas stations along Montana's Hi-line. Her sister Jeanette says Gail continued to work even through her battle with cancer and often works double shifts. Gail says she just appreciates the chance to keep a close eye on her daughter.
Determined, strong-willed and energ-etic, Billie Ray Dupree works out daily to care for her body and keep it fit, in light of her genetic disposition toward developing diabetes.